Posted In Health News & Studies on October 02, 2013
Image: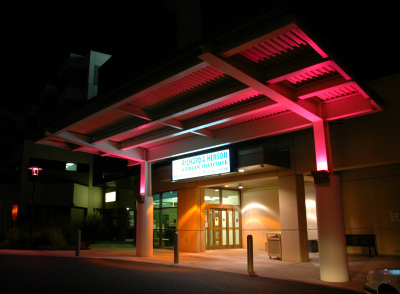 According to the American Cancer Society, breast cancer is the second leading cause of cancer death and the second most common type of cancer among women in the U.S. Delmarva is no exception — in 2012, breast cancer patients made up 30 percent of new cancer patients treated at Peninsula Regional Medical Center.
There are some risk factors that you can control to lower your chances of getting breast cancer. The American Cancer Society recommends staying at a healthy weight, being physically active, and limiting how much alcohol you drink.
There are other risk factors that you can't change, such as age, dense breast tissue, gender, race and ethnicity (breast cancer is more common in white and African-American women). There is another important risk factor when it comes to breast cancer: genetics. Although you can't change your genes, you can learn more about them to see if you're at risk.
Women with a strong family history of breast cancer may want to be tested for a mutation in BRCA1 and BRCA2 genes that give those who carry it a much higher risk of breast cancer. The Richard A. Henson Cancer Institute offers genetic counseling and testing services provided by the Prevention and Research Center of Mercy Medical Center in cooperation with Peninsula Regional Medical Center. Call 1-866-9-CANCER to make an appointment or learn more. Sign up for the Roots Run on November 9 to help raise funds for this vital service.
Once you are aware of your risk, talk with your doctor about the importance of screening for breast cancer. Regular screening can often find cancer early, when treatments are more likely to be successful. At PRMC, the Breast Center offers routine screening mammograms using Full-Field Digital Mammography technology to detect early cancer. This technology provides more comprehensive visibility to the radiologist. It also allows a much quicker and more efficient exam, and uses less radiation than conventional mammography systems. In addition, the Breast Center offers diagnostic mammograms for further evaluation of current breast problems; breast ultrasound, biopsies, non-surgical procedures and fine needle aspiration. To schedule an appointment with the Breast Center, call 410-543-7599.
Should breast cancer be detected, the Richard A. Henson Cancer Institute has an arsenal of treatments to help patients fight the disease. Surgical treatment, medical and radiation oncology are all offered on site. For patients who may need it, there is a Multidisciplinary Breast Cancer Service and second opinion service at the Richard A. Henson Cancer Institute which brings together a whole team of specialists for a patient in one room: a breast surgeon, radiation oncologist, medical oncologist, and reconstructive surgeon all review the case. The Richard A. Henson Cancer Institute also has a clinical research program and is a member of the Johns Hopkins Clinical Research Network, offering patients access to the latest clinical trials.
The Richard A. Henson Cancer Institute's patient navigators work closely with patients and their families from the moment a cancer diagnosis is given to the end of the treatment plan, to ensure a smooth path to exceptional care. PRMC also offers breast cancer support groups and services such as lymphedema treatment and a cancer exercise program.
At this time, according to the American Cancer Society, there are more than 2.8 million breast cancer survivors in the United States. In October, when you see the Richard A. Henson Cancer Institute lit up pink, remember to lower your risk, make sure to get screened, and support the many cancer survivors who fight this disease.