Posted on October 19, 2016
Image: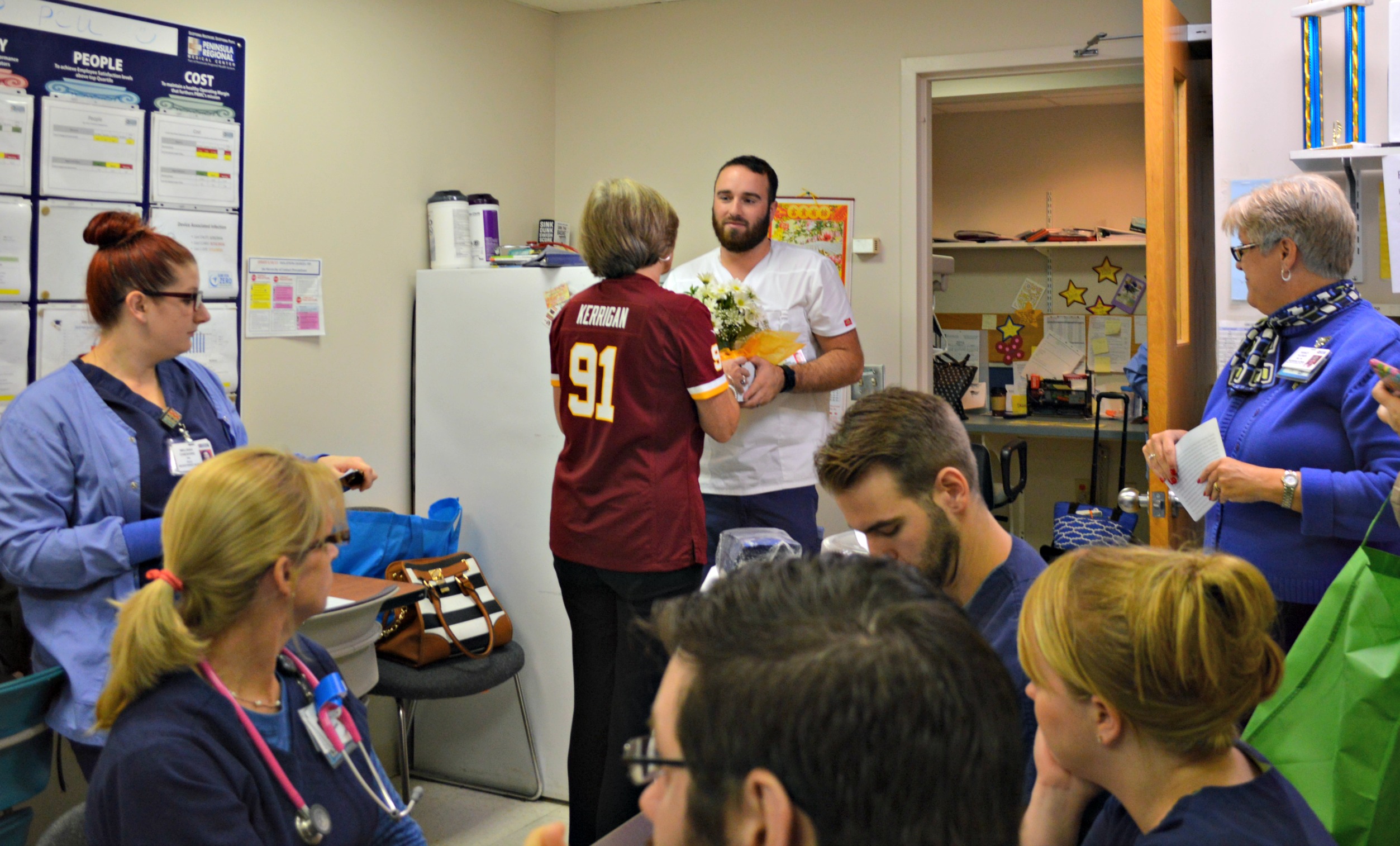 A nurse's kindness is as important to family members as it is to patients. Peninsula Regional Medical Center nurse Brandon Milligan's reassuring, comforting care made the difference to one family during a difficult time recently, and for that, he has earned the Daisy Award for Extraordinary Nurses. 
The patient's daughter nominated Milligan, saying: "I met Brandon when my father became a patient, and was unresponsive for 3 days and placed on a breathing machine to lower his CO2 levels. For three days I sat by his bed, waiting for him to wake up. Brandon was very positive and caring. He kept reassuring me and my mother that my dad's levels were improving and he believed he would wake up soon. We had so many questions about what was happening, and Brandon took the time to explain things to us. Shortly after arriving home on the fourth day, Brandon called my cell phone to tell me that my father was awake. He gave my dad the phone and it was one of the best calls I had ever received. My dad said, 'Where have you been all year, I have been looking for you!' My father also spoke with my mother and that call gave us much comfort."
Unfortunately, the patient passed away a few days later. "I cannot explain the comfort it was and is to know that Brandon was with my father during his passing. My mother and I were taken into a conference room and informed of my dad's passing; Brandon along with the doctor explained that my dad's heart had stopped and they honored his wishes not to be resuscitated. Brandon didn't just seem to be going through the motions. It showed that he truly cared about my dad, my mother and I. I am so grateful that Brandon was my father's nurse and I'm sure he has helped and will help many more patients. It has been a difficult time and I truly wanted a way to say thank you to Brandon for his caring and compassion."
Milligan was honored with the Daisy Award in a ceremony before his colleagues. He received a certificate commending him for being an extraordinary nurse. The certificate reads: "In deep appreciation of all you do, who you are, and the incredibly meaningful difference you make in the lives of so many people." He was also presented with fresh daisies on behalf of the Peninsula Regional Medical staff, and a sculpture called A Healer's Touch, hand-carved by artists of the Shona Tribe in Zimbabwe.  To nominate an exceptional nurse, visit www.peninsula.org/DaisyAward and share a story.
The not-for-profit DAISY Foundation is based in Glen Ellen, CA, and was established by family members in memory of J. Patrick Barnes.  Patrick died at the age of 33 in late 1999 from complications of Idiopathic Thrombocytopenic Purpura (ITP), a little-known but not uncommon auto-immune disease.  The care Patrick and his family received from nurses while he was ill inspired this unique means of thanking nurses for making a profound difference in the lives of their patients and patient families.
President and Co-Founder of The DAISY Foundation Bonnie Barnes said, "When Patrick was critically ill, our family experienced firsthand the remarkable skill and care nurses provide patients every day and night. Yet these unsung heroes are seldom recognized for the super-human work they do. The kind of work the nurses at PRMC are called on to do every day epitomizes the purpose of The DAISY Award."