Posted In Peninsula Regional News on June 03, 2013
Image: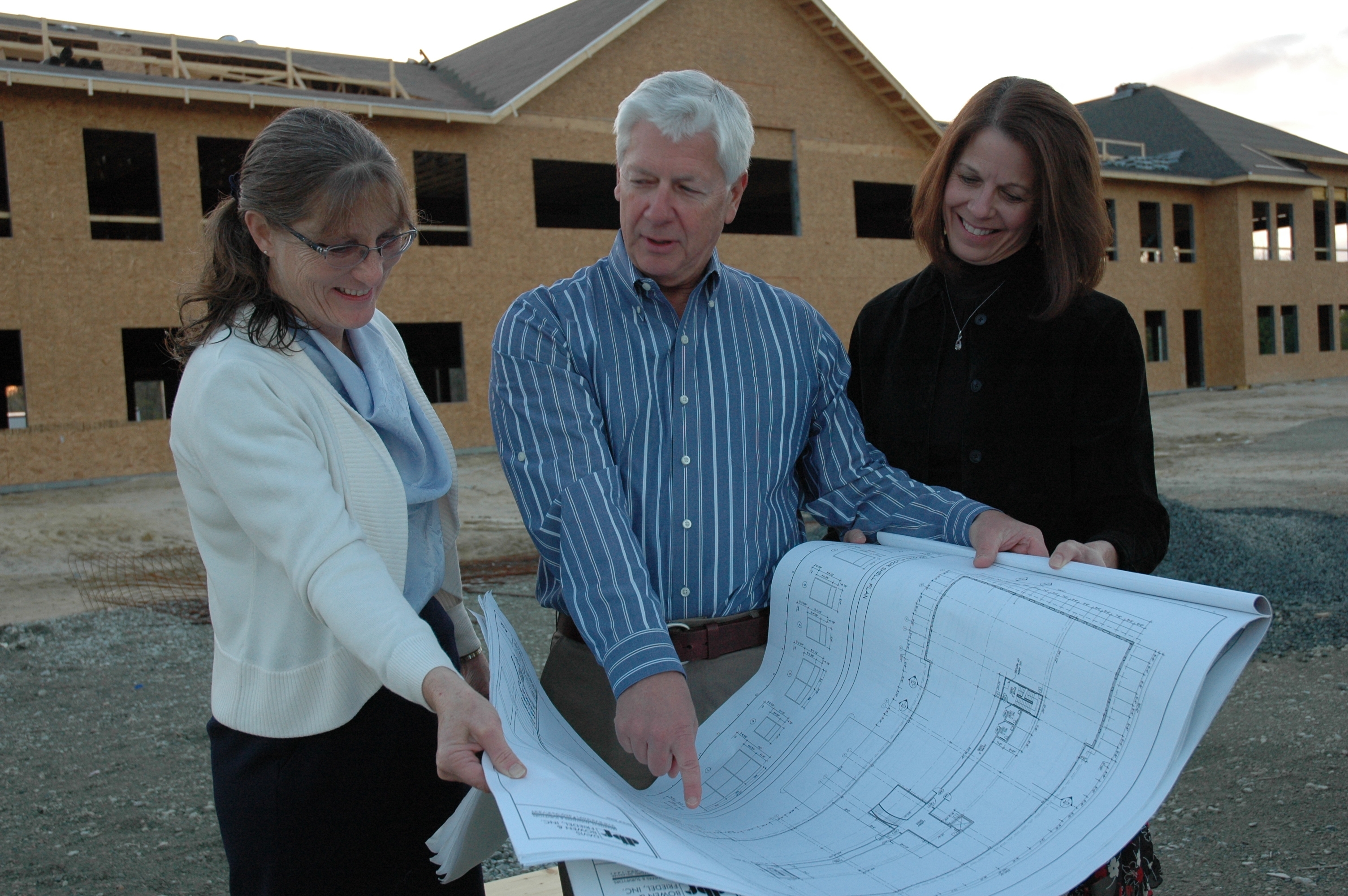 Nancy Squires, MD, left, and Lisa Hohl, family nurse practitioner, review the Delmarva Health Pavilion plans with developer Palmer Gillis.
It's official! The Delmarva Health Pavilion will be opening this fall, and we are looking forward to it and making plans for a grand opening celebration. There will be several different types of providers there, including a primary care office (information about that office, including a phone number, at the end of the article if you need a new doc). To find out about jobs at the new complex, visit PRMC's careers page.  In the meantime, here's some background on the project. This article appears in the May issue of PRMC's HealthFocus magazine.
J.C. Nichols. You may not know the name, but you have almost certainly enjoyed his Americana contribution. Mr. Nichols, in 1922, opened the Country Club Plaza in Kansas City, Missouri, largely accepted as the birthplace of the U.S. shopping center. Build it where it's needed most, make it easy for people to get nearly everything they could require in one convenient location, and they will come. And we continue to. It's a blueprint for business not lost on healthcare leaders like Peninsula Regional Medical Center. Opening this summer is PRMC's Delmarva Health Pavilion at Millsboro, an underserved area with a growing demand for family medicine and specialty healthcare services. Currently, there are over 100,000 people living within a 20 minute drive from the center of Millsboro, Delaware. The town's population is predicted to grow by 8.2% over the next five years, which is just slightly below the anticipated 8.6% growth for Sussex County during the same time period. "The need for a wide range of healthcare services and chronic disease management is expected to significantly increase in the next half decade in Sussex County, and we're honored to partner with everyone in Millsboro, to invest now in the future of this wonderful community," said Dr. Peggy Naleppa, MS, MBA, FACHE and President/CEO of Peninsula Regional Medical Center. The Delmarva Health Pavilion will be a one-stop shop for many of those healthcare needs required by the people of Millsboro and surrounding Sussex County communities, not unlike the Nichols' shopping concept. The 48,000-square-foot space will provide an anticipated 75 to 100 new jobs plus additional medical providers to see more patients and bring specialized physicians to the doors of this growing community, which with its location and amenities has become increasingly attractive to retirees. These are physicians who can diagnose health conditions early in order to provide preventive measures and opportunities for non-surgical interventions where appropriate. "Health care is a major concern not only for retirees, but for everyone, and to be able to say that Millsboro is the home of a medical facility operated by Peninsula Regional Medical Center is a real plus for our town," said Millsboro Mayor Robert Bryan. For decades, Peninsula Regional has been working toward a population-based healthcare approach for the overall health and well-being of the people of the Delmarva Peninsula. The creation of the Delmarva Health Pavilion at Millsboro is an essential part of that effort. As the healthcare industry continues to evolve, providers are becoming more committed to reducing health disparities and integrating disease prevention among populations versus individuals. For instance, by providing a myriad of services at the Delmarva Health Pavilion, the focus is on keeping the people of Millsboro and Sussex County healthy, first and foremost, and reducing their chances for serious illness and admission to the hospital. "As part of this evolution, healthcare reform has allowed, or will soon allow, millions of individuals access to insurance and healthcare that may not have previously been available to them. In addition, every day, 10,000 people turn 65 and join Medicare," said Chris Hall, PRMC's Vice President of Strategy and Business Development. "By bringing a range of multi-disciplinary services, especially primary care, close to home for Sussex County, Peninsula Regional will meet the health needs of this population in a cohesive, comprehensive and convenient manner." The Delmarva Health Pavilion at Millsboro will help residents to live longer, more productive lives, benefitting the entire community. It also helps to ensure that exceptional care will be available even closer in Sussex County. "The Millsboro Town Council and our town's people appreciate the fact that PRMC believes in us and is willing to invest in our town and community," added Mayor Bryan.
Primary Care in Sussex
While the move into Millsboro is a new and exciting opportunity for Peninsula Regional Medical Center, proving quality healthcare services in Delaware and Sussex County is something we've been privileged to do for decades. Along with our Dagsboro Family Medicine Practice that will relocate to Millsboro, PRMC and its Peninsula Regional Medical Group also offer family medicine healthcare services in Laurel and Ocean View. All three practices are currently welcoming new patients and accept most insurances. So if you need a great doctor in Sussex County, give us a call!
Dagsboro Family Medicine (Moving to Millsboro this summer)
32335 Dupont Boulevard Dagsboro, DE 19939 302-732-8400
Laurel Family Medicine
30668 Sussex Highway Laurel, DE 19956 302-875-6550
Ocean View Family Medicine
3578 Atlantic Avenue, Unit 3 Millville, DE 19967 302-537-1457