Posted In Health News & Studies on May 23, 2012
Image: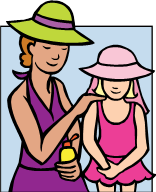 Gearing up for a big holiday weekend? The forecast is calling for warm, sunny days – perfect for picnics and barbecues, but also the right conditions to get your first sunburn of the year. Don't forget to cover up and use sunscreen to protect your skin from damage that can cause aging signs and even cancer. This Friday, May 25, is National "Don't Fry" Day — a day to kick off the summer season by being sun-safe. Take these four precautions: Slip, Slop, Slap ...and Wrap!
Slip on a SHIRT.
Slop on some SUNSCREEN (SPF of at least 30 – and don't forget to reapply after swimming or sweating).
Slap on a wide-brimmed HAT.
Wrap on some SUNGLASSES.
Need some motivation to avoid getting too many rays? Remember:
Skin cancer is the most common form of cancer in the United States.
More than 3.5 million new cases of skin cancer are diagnosed and 2.2 million people are treated annually.
It is estimated that one American dies every hour from skin cancer.
Each year there are more new cases of skin cancer than the combined incidence of cancers of the breast, prostate, lung, and colon.
One in five Americans will develop skin cancer in the course of a lifetime.
Melanoma is the second most common form of cancer for young adults 15-29 years old. IT CAN HAPPEN TO ANYONE!
At Peninsula Regional's Richard A. Henson Cancer Institute, 11 percent of all new cancers diagnosed in 2010 were melanoma cases, well above the Maryland average of 5 percent.
For more details, visit http://www.skincancerprevention.org.