Posted on May 06, 2020
Image: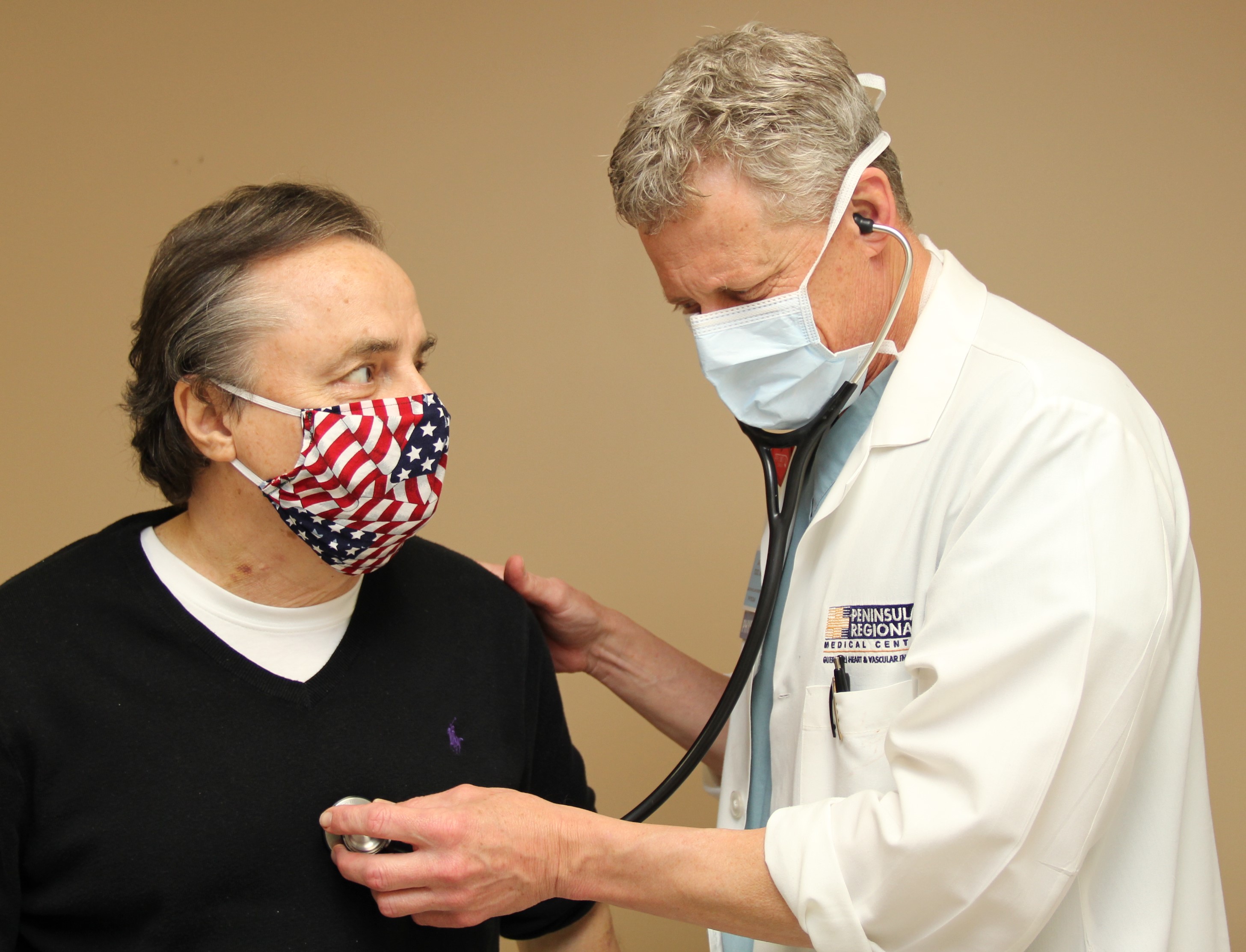 Robert Hall is a planner. An international life insurance broker who has traveled the world for business, he has a residence in Paris, has lived in London and Germany, and has been a critical thinker his entire life. "I take a look at all of the elements that are under my control and I use that knowledge to make the best choices," Hall said during an April interview.
Events out of his control struck the 68-year-old Salisbury resident on April 17 while he was back home on business and stuck here due to the COVID-19 pandemic. He started experiencing chest pains – and knew right away what was happening.
Hall had a stent placed at the American Hospital of Paris in January to open an artery that was 90% blocked. With a history of heart disease in his family and pain similar to what he had experienced just three months earlier, he immediately reached out to his cardiologist, Dr. Anthony Frey. 
A failed stress test landed Hall in the Cardiac Catheterization Lab that same day at Peninsula Regional Medical Center (PRMC) where Dr. Frey informed him that he had two blocked arteries that would require open-heart surgery to unclog. With his wife, Mireille, still in her native France, Hall was facing a difficult decision alone in the middle of a global pandemic.
He asked Dr. Frey and cardiovascular surgeon James Todd, MD, not to sugarcoat it and they didn't.  They told Hall without the operation, he could die.  "I took a look at what was happening around the world and locally with this virus, made some calculations, trusted my docs that PRMC was the best place to have my heart surgery and determined I couldn't fold the hand," said Hall. "It was go all in or play three aces and hope for the best."
He chose the "all in" surgery, which was a success three days later. "Strange how things happen for a reason. If this had occurred in Paris where the hospitals are full of COVID-19 patients, I might not have been able to have this surgery," added Hall.
He's now convalescing at home under the watchful eye of his sister, and for the most part pain free.  "I can't begin to tell you how impressed I was with the quality, empathy and the professionalism of everyone at PRMC and in particular the nurses who really put me at ease," he said.
Hall and his wife, whom he affectionately refers to as "Mimi," celebrated their 25th anniversary on April 28, albeit thousands of miles away as she, too, cannot travel due to the COVID-19 situation.  "If Mimi ever needed this type of care, I'd bring her home from Paris to have it done here," he remarked. "I can't express how courteous and helpful everyone was at PRMC during a very challenging time for them to make this unpleasant journey tolerable for me."               
In the photo, Robert Hall of Salisbury is examined by Dr. James Todd, the Peninsula Regional CV Surgical cardiovascular surgeon who performed his open-heart operation.