Posted on September 27, 2016
Image: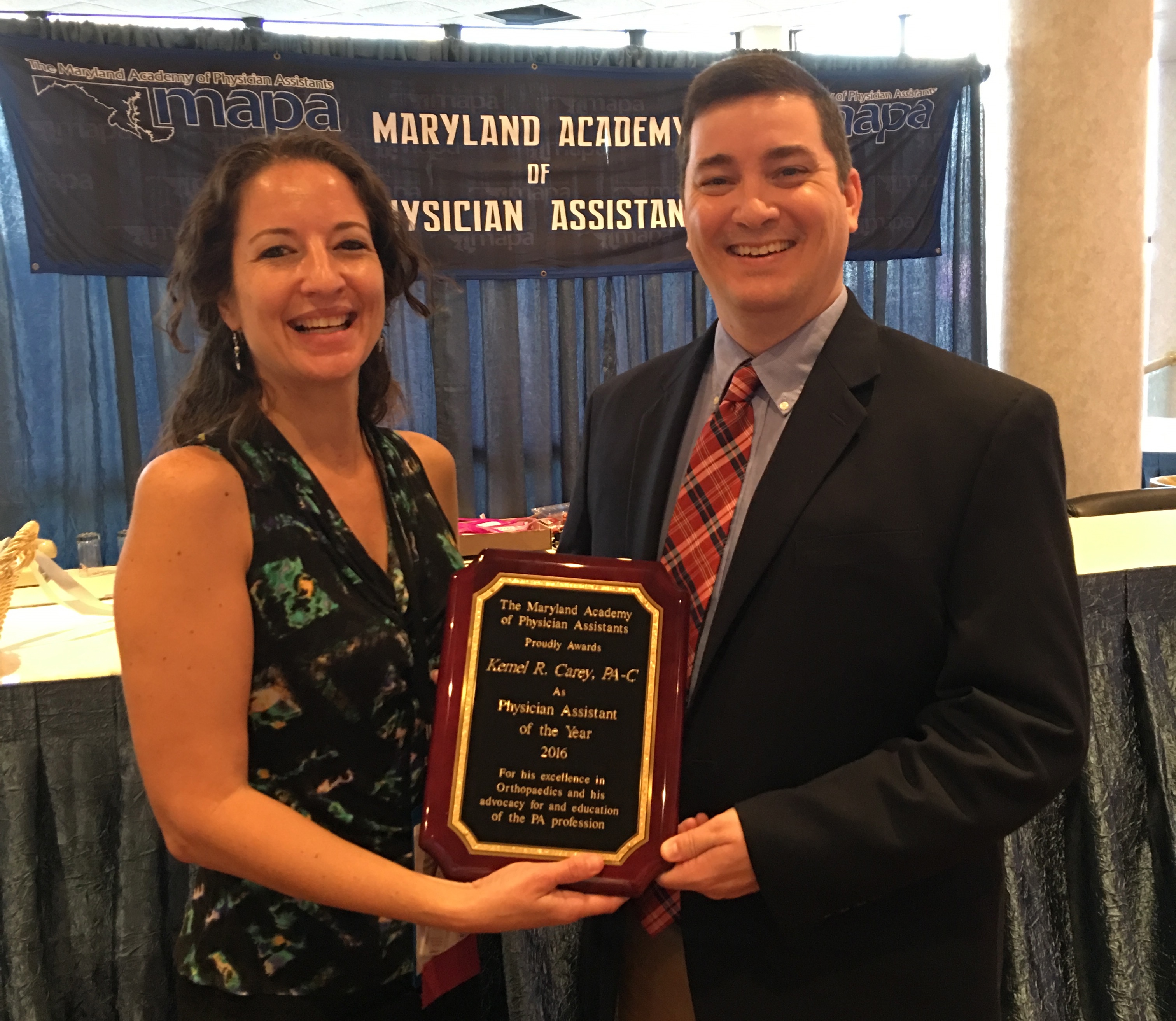 Kemuel Carey, MHS, PA-C, ATC, of Peninsula Orthopaedic Associates (POA) in Salisbury, MD and a member of the Peninsula Regional Medical Center (PRMC) Orthopaedic and Rehabilitation Center surgical team, was recently named the 2016 Maryland Physician Assistant of the Year by the Maryland Academy of Physician Assistants (MAPA) at the organization's annual conference.
"It's a great honor to be recognized with this award," said Carey. "As a child, I witnessed my father succumb to the complications of diabetes and that's how I became intrigued by medicine. For the past 13 years as a Physician Assistant (PA) I have experienced the gratification of helping others with orthopaedic conditions and I look forward to many more years."
Carey, who joined POA and PRMC in 2005, was an athletic trainer in his home state of Pennsylvania, but sought a greater involvement in patient care. He enrolled in and graduated from the Drexel University Physician Assistant program in 2003 and began a career in orthopaedics the following year.
"People may not realize that there are more than 108,500 PAs in the US practicing medicine in all 50 states and DC – from primary care medicine to every surgical and non-surgical sub-subspecialty, added Carey. "We conduct physical exams, diagnose and treat illnesses, order and interpret tests, assist in surgery, coordinate care, counsel on preventive healthcare, prescribe medications and more."
In honoring Carey with its most prestigious award, the MAPA called him a strong advocate for PAs and for students studying in the field. He has served as a clinical preceptor for the Philadelphia University PA program, Towson University-CCBC/Essex PA program, Eastern Virginia Medical School's PA program, and Salisbury University's Athletic Training program. In addition to designing a well-planned experience that exposes students to most orthopedic specialties, he's also created, with the support of POA, a condo residence to house these students-who Carey hopes will remain as PAs in this community after graduation-during their rotations.
"Kemuel possesses outstanding orthopaedic skills, and is everything you would want in a role model for the ideals of the PA profession," said Gwendy, McCoy, PA, Immediate Past President of the MAPA. "It is always an honor to give an award to one of the many amazing PAs in Maryland. I know he will continue to inspire generations of PAs to come."
Carey was also recognized for his leadership, serving on the MAPA Legislative and Reimbursement Committees since 2012, and Co-Chairing the CME Committee for PAs in Orthopedic Surgery from 2012-2015. He was also appointed as Liaison from the American Association of Physician Assistants to the American Academy of Orthopedic Surgeons and has served in that role since 2013. He is also a five-year member of the Advance Practice Professional Committee at Peninsula Regional Medical Center.
"A great PA is one who is engaged in his community and his profession, focused on providing excellent patient care and contributing within a team of health care professionals. He or she is empathetic and seeks the best health care solution for every patient – treating each as if they are a family member," added Carey.
Carey resides in Salisbury with his wife Tery and their three sons. Aside from his clinical responsibilities, he's active in athletics, arts and technology and his church.
In the photo: Gwendy McCoy, PA, Immediate Past President of the Maryland Academy of Physician Assistants, presents Kemuel Carey, MHS, PA-C, ATC, with his 2016 Maryland Physician Assistant of the Year Award at the MAPA's recent annual conference.