Posted In Peninsula Regional News on August 14, 2012
Image: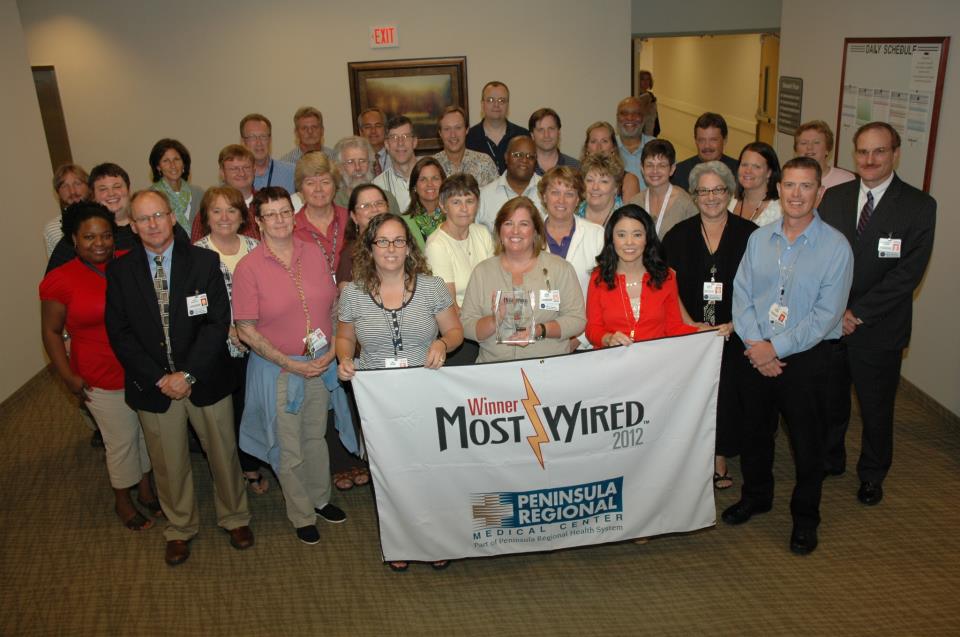 Members of the Information Technology team at Peninsula Regional Medical Center celebrate PRMC's 2012 Most Wired Award.
Peninsula Regional Medical Center has been recognized for a second consecutive year as one of the nation's Most Wired hospitals, according to the results of the 2012 Most Wired Survey released in the July issue of the American Hospital Association's Hospitals & Health Networks magazine. PRMC was also honored by the magazine with a Most Wired, Most Improved designation in 2010. Peninsula Regional was one of just 154 United States hospitals to win the 2012 award and joins the A.I. DuPont Hospital for Children in Wilmington, Delaware as the only recipients on the Delmarva Peninsula. Just two Maryland hospitals were presented with this distinguished honor this year.
The nation's Most Wired hospitals are leveraging the adoption and use of health information technology (IT) to improve performance, protect patient data and optimize patient flow and communications according to the Most Wired 2012 Survey. "Delivering the highest quality care at the very safest level is a cornerstone of our Medical Center mission," said Ray Adkins, Chief Information Officer. "Being selected for recognition among the nation's top digital hospitals over three consecutive years is not only a significant honor but also a validation of the leadership role that Peninsula Regional has taken in the use of IT to support our goal of becoming one of America's safest hospitals and one of the most accessible hospitals for our patients, staff and physicians." PRMC has also been designated a Stage 6 facility on the Health Information and Management Systems Society Analytics model for electronic medical record adoption. Only 6% of all US hospitals have reached this level of information technology sophistication. Most Wired hospitals, including Peninsula Regional Medical Center, have made great strides forward in this area. Among the key findings this year:
93 percent of Most Wired hospitals employ intrusion detection systems to protect patient privacy and security of patient data, in comparison to 77 percent of the total responders.
74 percent of Most Wired hospitals and 57 percent of all surveyed hospitals use automated patient flow systems.
90 percent of Most Wired hospitals and 73 percent of all surveyed use performance improvement scorecards to help reduce inefficiencies.
100 percent of Most Wired hospitals check drug interactions and drug allergies when medications are ordered as a major step in reducing medication errors.
Hospitals & Health Networks' Most Wired Survey, conducted between Jan. 15 and March 15, asked hospitals and health systems nationwide to answer questions regarding their IT initiatives. Respondents completed 662 surveys, representing 1,570 hospitals, or roughly 27 percent of all U.S. hospitals. The July H&HN cover story detailing results is available at 
www.hhnmag.com
.