Posted In PRMC Stories on December 28, 2012
Image: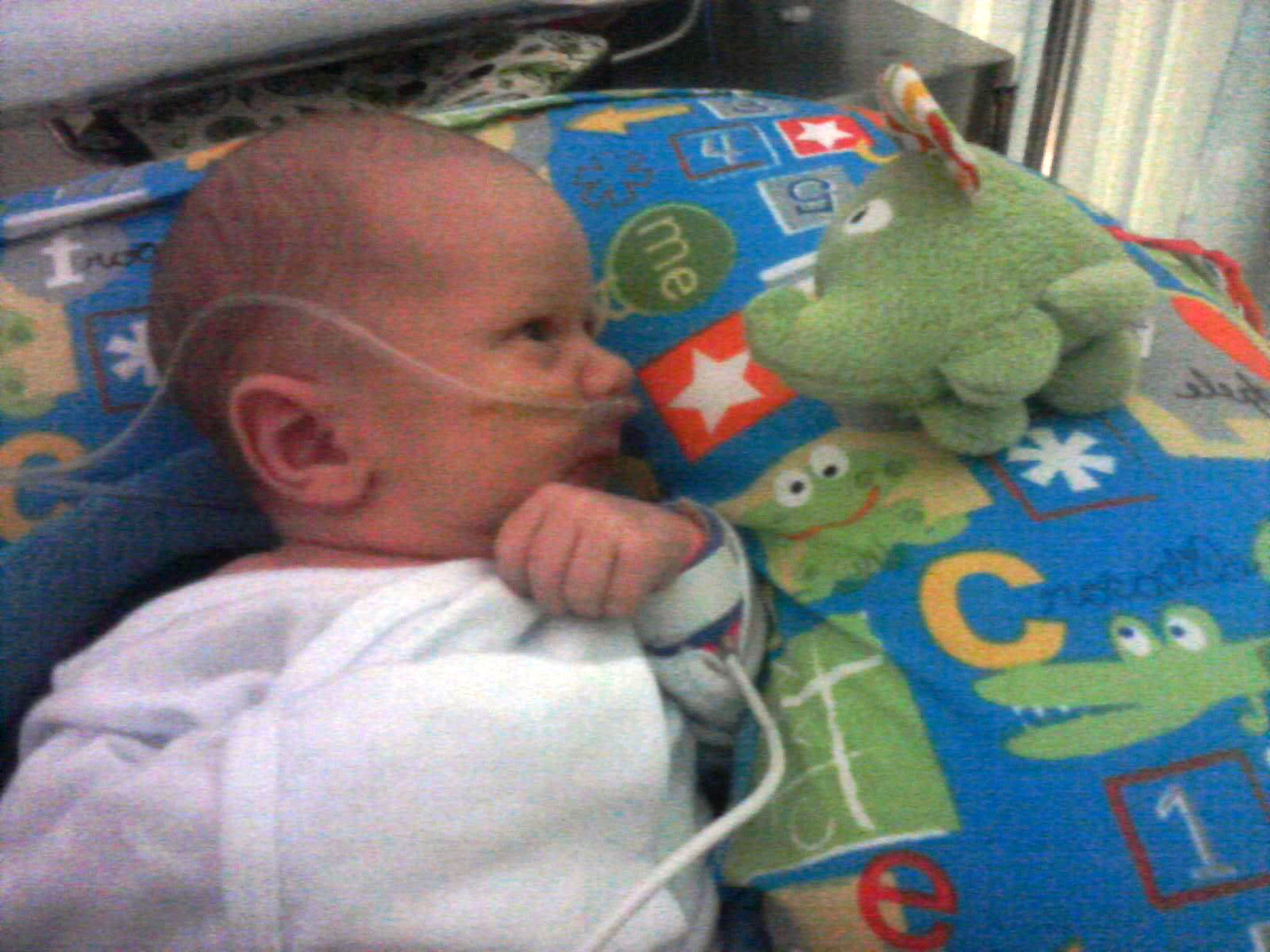 This is the third installment of the story of Gwenn Garland, a Salisbury mom and Peninsula Regional community relations specialist.

The phone rang at 12:30 a.m. My heart raced. Does anything good come from a late-night phone call when someone you love is in the hospital? On the line was Erroll's doctor for that day, Edward Karotkin, MD, a Children's National neonatologist. He told me Erroll's lung had collapsed; he had been put on a ventilator and more IV antibiotics. On Day 7 of his life, it was like starting all over again. The doctor kindly told me to get some rest. Instead I cried all night, thinking of how that phone call could have been much worse, and imagining endless weeks of a baby who seemed to get better, then returned to square one just as I thought it might be almost time to bring him home.

Erroll was hooked up to a CPAP machine when I came in the next morning. I couldn't feed or hold him. I was exhausted; my optimism was drained. I began to think he would never come home. There he was, tethered to a machine, his face obscured by tubes, his little leg bound with tape holding his IV in place. It was a heartbreaking sight. In PRMC's meditation room, a softly lit, private place well-stocked with tissues, I spent some quiet moments of misery.

When I returned the next day, determined to be more positive, I was greeted by the astonishing, beautiful sight of my baby without any oxygen tubes. "We wanted to test him out on room air," his nurse explained. It didn't last long, but seeing him for an hour tube-free was a welcome comfort. Even though he went back on oxygen, he seemed feistier, trying to pull the cannula out of his nose (much to the distress of his little cheek, which had the tube taped to it).

The medical team knew how much I wanted to bring the baby home, and worked carefully toward that goal. The reason for his surprisingly slow recovery was a mystery, but he was getting better. It just required patience, they told me, as he healed on his own time. I willed myself to be patient, and watched as he grew a little stronger each day. I let out a sigh of relief as we passed the anniversary of his second week in the NICU without any late-night phone calls. And finally, he started breathing without any mechanical help.

On October 17, after 18 long days in Peninsula Regional Medical Center's Neonatal Intensive Care Unit, my little adventurer Erroll came home at last.


I will be forever grateful to the Peninsula Regional professionals who helped save my son's life – the incredibly fast-responding Labor & Delivery team; the caring, sharp NICU staff; and the brilliant Children's National Medical Center neonatologists, nurse practitioners and physician assistants who put their skills to work here, without our having to journey to Washington, D.C., for their expertise. Without all of them, he might not have made it.

Today, Erroll is a healthy, happy baby. You'd never guess he had such a rough start. I owe all of his bright, sweet smiles to the exceptional care we got at PRMC.

Peninsula Regional Medical Center would like to feature occasional stories and articles about the experiences of PRMC patients and staff.  If you have a story you'd like to share on the blog, call 410-749-7172 or email [email protected].