Posted In Health News & Studies on May 31, 2013
Image: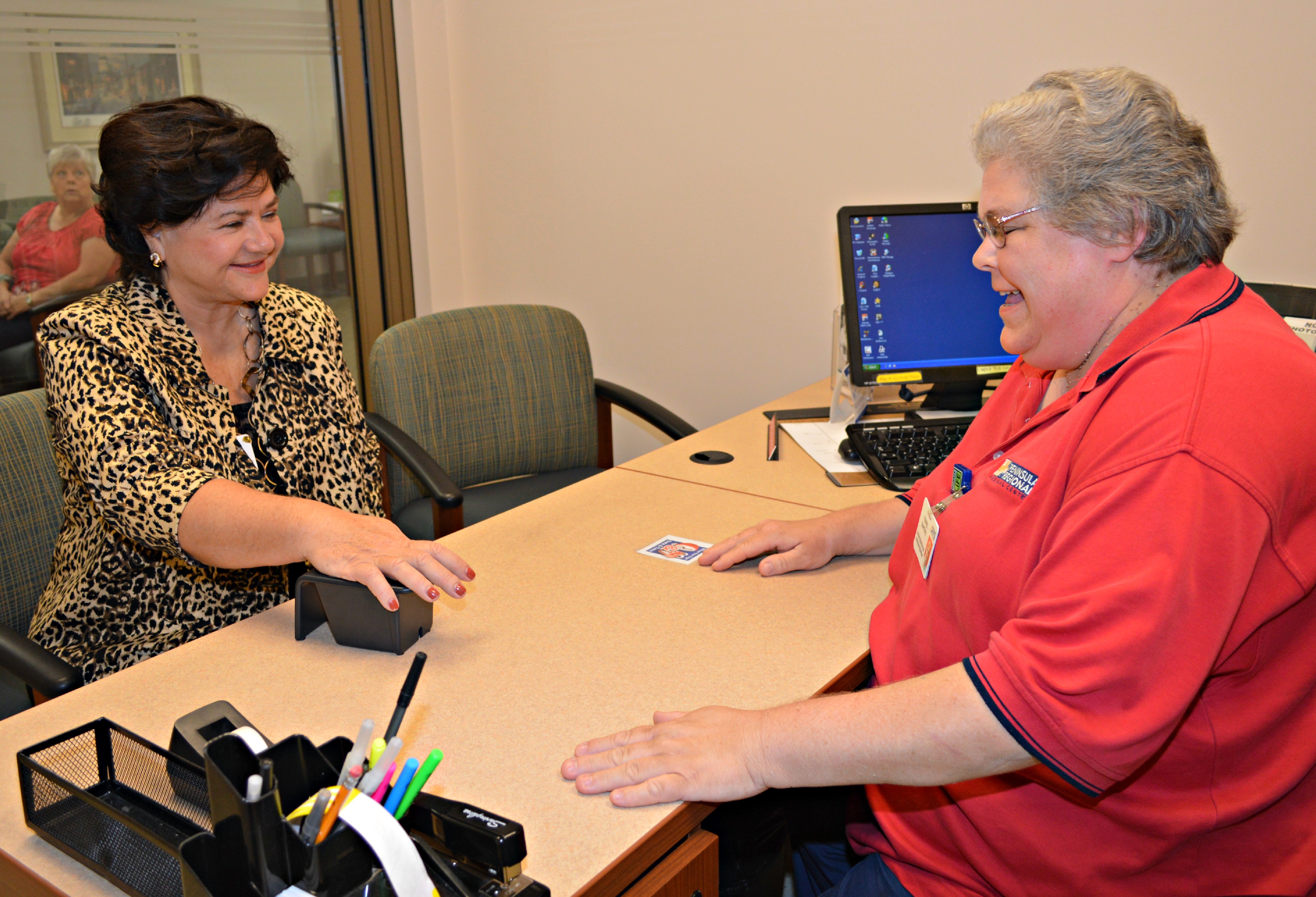 Peninsula Regional Medical Center registrar Terrie Shatney scans the palm of PRMC President/CEO Peggy Naleppa, MS, MBA, Dr.M, FACHE.
Peninsula Regional Medical Center announced today that it is the first healthcare system in Maryland to use PatientSecure, a cutting-edge system that uses a palm vein scan to identify patients biometrically. Patient safety is one of the driving factors that led PRMC to choose PatientSecure. When patients register with the system, a digital image of their hand veins is converted into a unique patient identifier in a secure format that interfaces with the healthcare system's electronic health record system. The patient record is linked indelibly with the correct patient, helping to decrease patient wait time and speed up registrations. It also prevents identification theft and error. Every person's palm vein pattern is unique, so once patients are registered, there is never any doubt about which record belongs to them. It ensures that the right care is provided to the right patient, every time.
"Imagine being incapacitated or knocked unconscious in an accident and brought to the Emergency Department," said Jeff Karns, PRMC Executive Director of Patient Financial Services. "Even if patients can't give their name in these cases, their palm can be scanned and their medical record accessed, giving doctors valuable information such as past medical events and allergies."
PatientSecure works by scanning palm vein patterns using harmless, near-infrared light, which is the same as the light of a TV remote control. The advanced algorithm processes the vein pattern to create an encrypted and protected digital file which is linked to a unique medical record. PatientSecure palm scanning technology is making its debut in Peninsula Regional Medical Center's outpatient registration areas, with plans to roll it out to other departments and affiliated physician's offices over the next few months