Posted In Uncategorized on August 29, 2014
Image: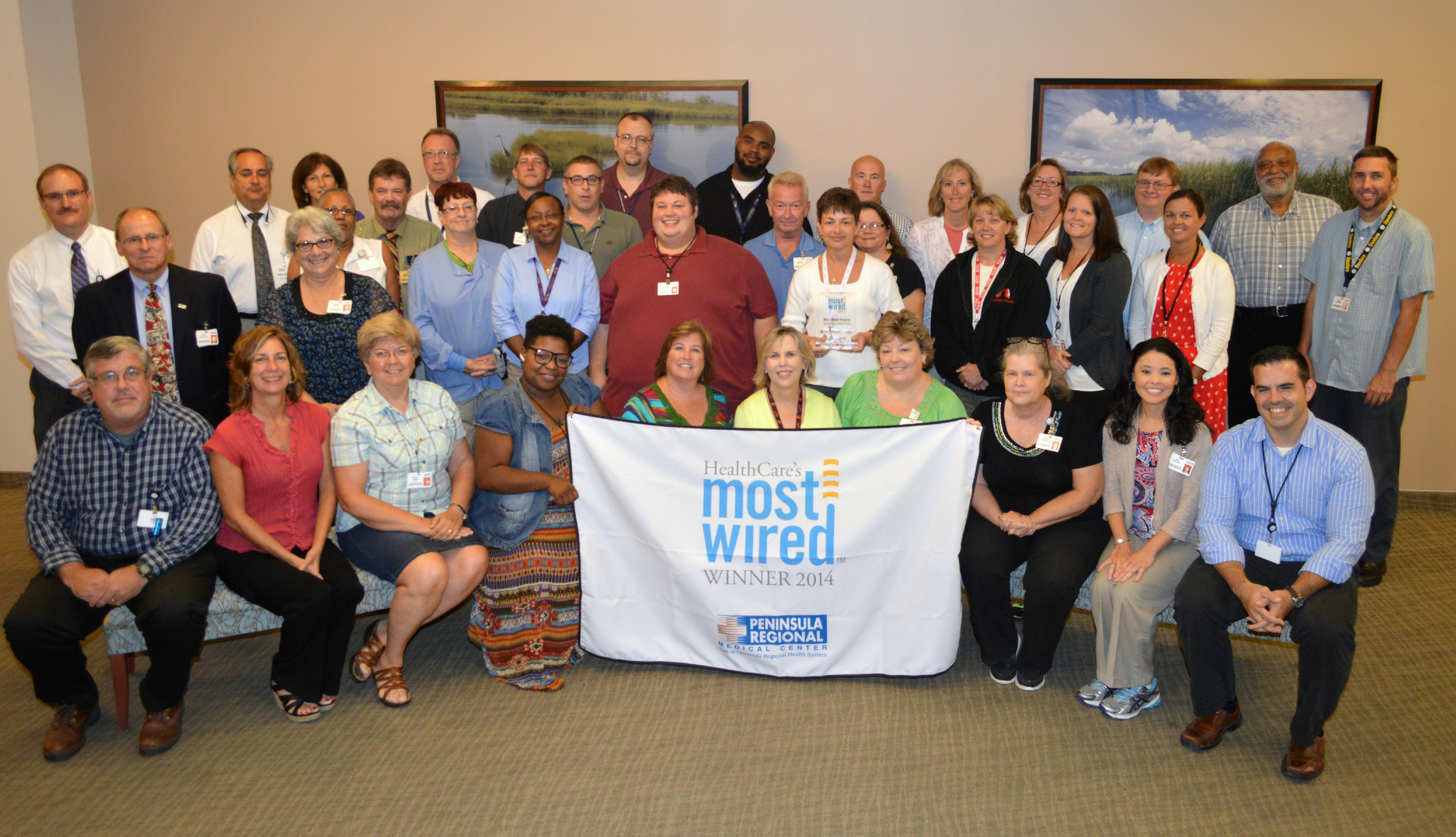 Members of the Information Technology team at Peninsula Regional Medical Center celebrate PRMC's American Hospital Association's 2014 Most Wired Award, its 5th consecutive year of being honored.
Peninsula Regional Medical Center has been recognized for a fifth consecutive year as one of the Nation's Most Wired hospitals
,
according to the results of the 2014 Most Wired Survey released in the July issue of the American Hospital Association's
Hospitals & Health Networks
magazine. PRMC has been honored by the magazine with a Most Wired Award or Most Improved Hospital Award seven times in the 16 years of the survey. Peninsula Regional was one of 375 United States hospitals to earn the 2014 distinction, and joins Nemours Hospitals in Wilmington, Delaware as the only recipients on the Delmarva Peninsula. Just six Maryland hospitals were presented with the honor this year. PRMC was recognized for the acquisition, deployment, effective and often innovative use of information technology as a foundational element in the delivery of high quality and safe care to its patients. Those include statewide electronic initiatives to share health information and best practice solutions, using information technology ─ like PRMC's Modified Early Warning System ─ to assess patient conditions, using a computerized medication entry and patient order system by physicians to reduce errors, and securely linking patients and providers with medical histories and medication records using online services like PRMC's MyPenCare.org. "As Peninsula Regional and the nation's healthcare system transitions to more integrated and patient-centered care away from the traditional hospital setting, the use of information technology to better connect patient with provider is essential in providing each the knowledge and information necessary to make informed healthcare decisions about treatment and care options," said Ray Adkins, PRMC's Chief Information Officer. "Delivering the highest quality and safest care, both here on the PRMC campus and across our region, is a cornerstone of our Medical Center's mission to improve the health of the communities we serve." For instance, the Medical Center's Modified Early Warning System is an award-winning, early-warning system to improve the quality of patient care and reduce mortality through quicker intervention. MEWS helps doctors, nurses and other caregivers to interpret patient vital signs and predict changing patient conditions that otherwise might not be recognized, and incorporates a technology solution that provides prompts for caregivers to take action, even when a patient's physical appearance might not have suggested that it was necessary. MyPenCare.org is Peninsula Regional's home for patients' personal health information, a secure website that maintains patients' up-to-date health records including discharge documents and test results. Patients also have the ability to update information themselves, adding doctors, tracking health statistics, noting allergies, prescriptions and other information that makes the record a vital resource for patients and their caregivers. Hospitals & Health Networks' Most Wired Survey, conducted between Jan. 15 and March 15, asked hospitals and health systems nationwide to answer questions regarding their IT initiatives. Respondents completed 680 surveys, representing 1,900 hospitals, or more than 30 percent of all U.S. hospitals.  The July
H&HN
cover story detailing results is available at
www.hhnmag.com
. You can learn more about and participate in PRMC's MyPenCare service by logging onto
www.mypencare.org
.