Posted In Health News & Studies on April 25, 2014
Image: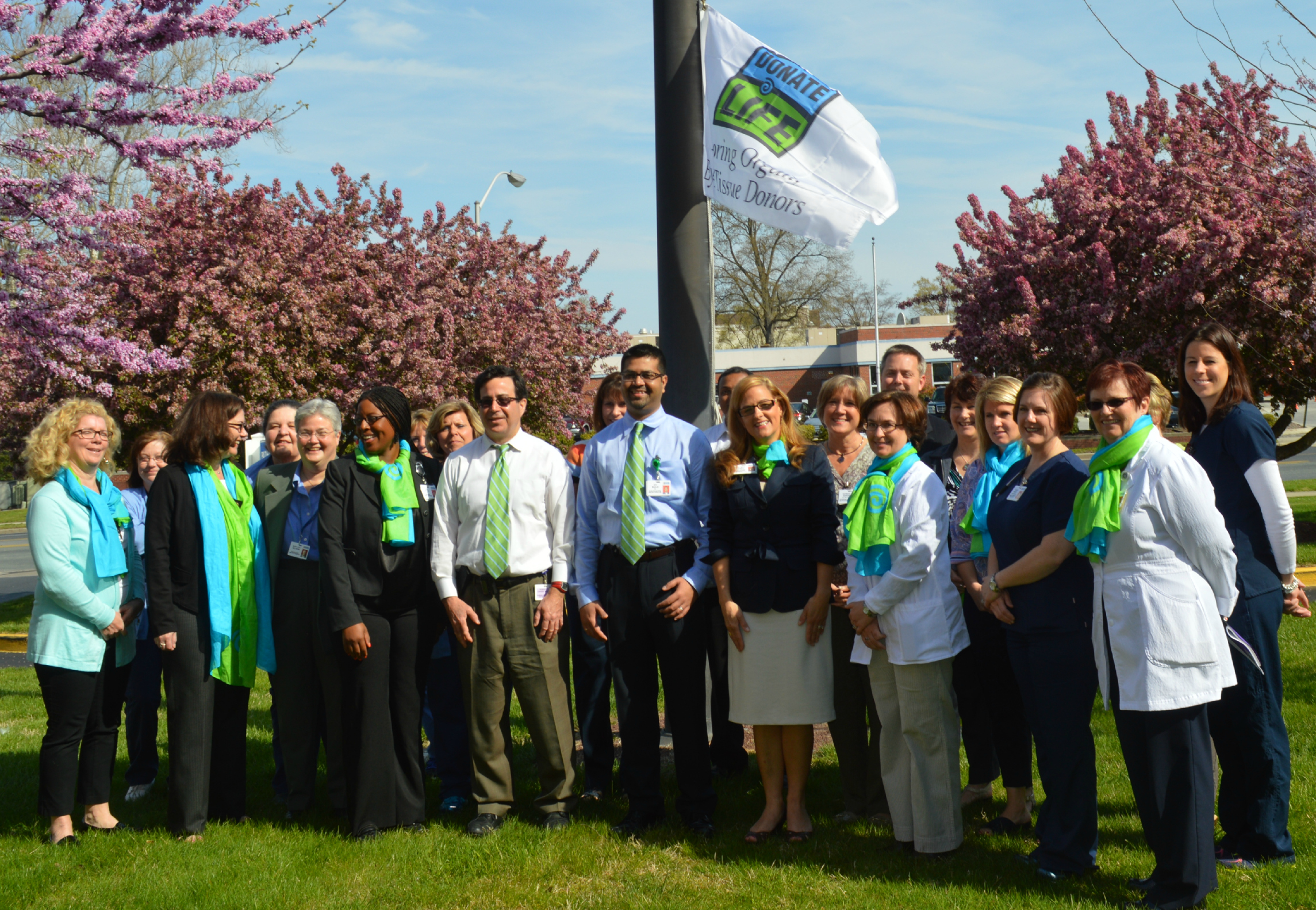 Peninsula Regional Medical Center staff members showed their support for National Donate Life Month, along with Living Legacy Foundation Chief Operating Officer Debbie Williams, at a flag raising on Tuesday. The Donate Life flag will fly throughout the month, and whenever the family of an organ donor requests it on the day of donation.
With more than 120,000 people nationwide waiting for a life-saving organ transplant, including nearly 3,000 people in Maryland, the need for designated organ, eye and tissue donors has reached an all-time high. On average, 18 people on that national waiting list die every day due to the lack of available organs for transplant. On Tuesday, April 22, 2014, Peninsula Regional Medical Center raised a Donate Life flag in front of the Guerrieri Heart & Vascular Institute in honor of National Donate Life Month. "National Donate Life Month is an opportunity to publicly recognize the profound generosity of families who have offered the gift of life to others while experiencing a personal loss of a friend or family member," said Joy Maulik, Director of the Critical Care Division at PRMC. "We are excited to work with The Living Legacy Foundation and Donate Life Maryland to bring awareness to organ, eye and tissue donation." In 2013, PRMC had 4 donors with a total of 7 organs and 18 additional tissue donors. So far in 2014, the Medical Center has had 3 donors totaling 8 organs and an additional 5 tissue donations. Throughout the year, if a family requests that PRMC fly the flag in honor of their loved one whose organs are being donated, it will do so on the day the donation occurs at the Medical Center. At the flag raising on Tuesday, Debbie Williams, COO of the Living Legacy Foundation, said that she hopes that when people drive by on Carroll Street and see that the Donate Life flag is raised, they will know that an important gift has been made, and that it will be a symbol of hope for those who are on the donation waiting list. For more information about organ, eye and tissue donation and to register as a donor, visit
www.donatelifemaryland.org
or
www.thellf.org
.