Posted on May 05, 2020
Image: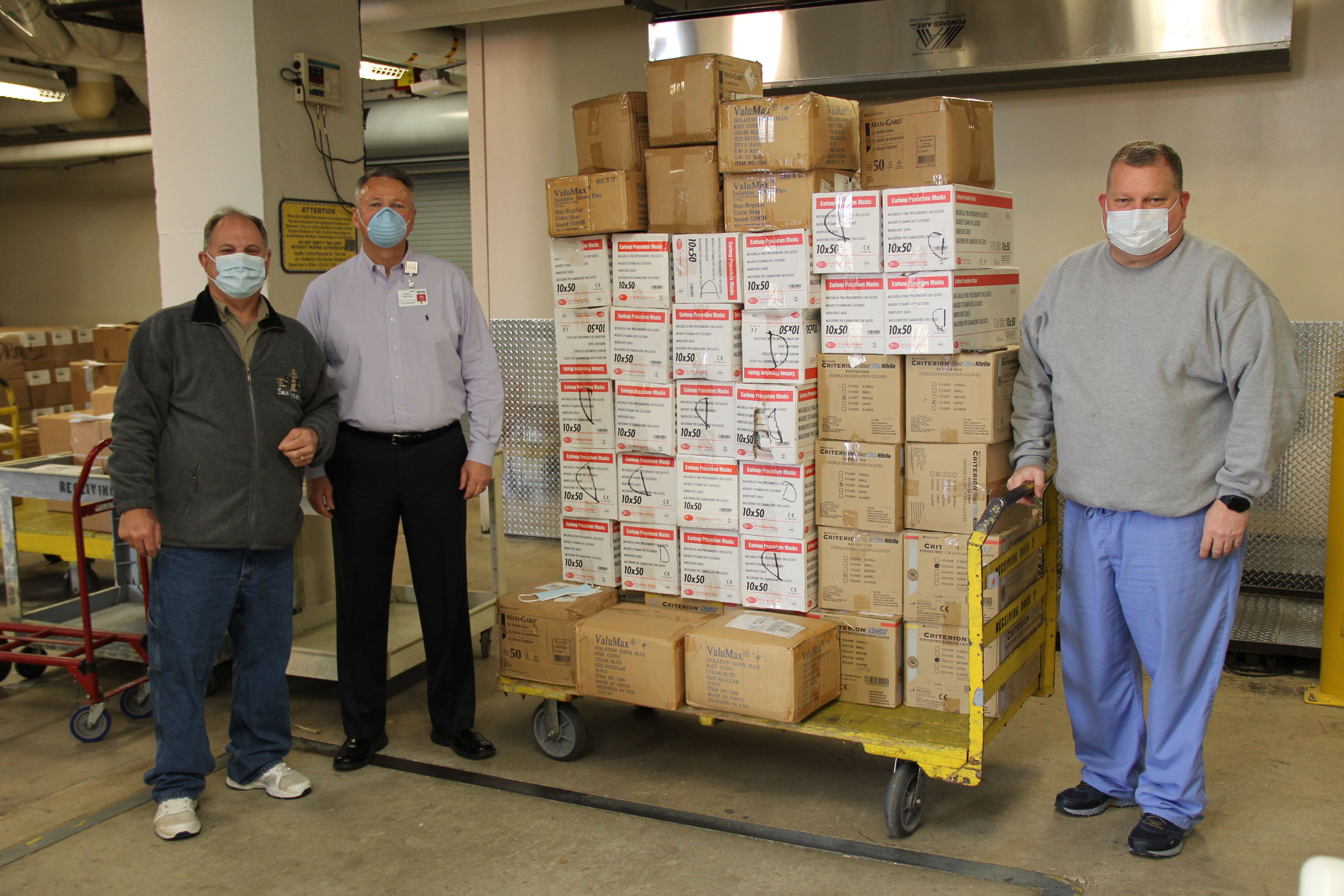 Since COVID-19 first appeared in the United States, it has spread exponentially and rapidly. The response to control and care for it had to be equally quick and expansive. Peninsula Regional Medical Center began work in early March, before the Eastern Shore saw its first case, to ramp up capacity and supplies to be safe and prepared.
Modeling was the first important step. Wen Cao, director of Performance Improvement for Peninsula Regional, analyzed different models from across the country. Continuously adjusting with real-time data, the models helped point the system toward what was needed.
Capacity
The two top priorities were keeping staff safe with personal protective equipment (PPE), and increasing capacity in preparation for a possible surge of patients. To quickly address space and patient safety needs, an 8-bed COVID-19 triage tent outside the Emergency Department provided a safe screening area for people suspected of having the virus.
Next, a 20-bed portable hospital outside the ED provided an area for treatment that would help keep patients suspected of having COVID-19 and those who had other health issues separated.
A specialized COVID-19 treatment area was created in a disused former Pediatrics area, creating a new 8-bed intensive care area with negative pressure to keep viral particles contained.
As models showed the number of COVID-19 patients in need of intensive care would swell, a herculean effort by the hospital's Facilities team created a new 43-bed ICU for critically ill COVID-19 patients.
Medical care was also needed for these patients as they recovered, and for COVID-19 patients not sick enough to require intensive care. The entire 80,000-square-foot Layfield tower— which encompasses the COVID-19 ICU, the Emergency Department, the existing ICU and two 40-bed medical floors – was reworked to become entirely negative airflow pressure, to treat COVID-19 patients in the safest way possible.
In all, our critical care capacity rose to 86 beds.
"We have witnessed tremendous transformations of non-clinical space into critical care units, facilities/HVAC engineering 'magic' to turn an entire tower of patient care space into negative air flow overnight and frontline clinical leaders and their teams cleverly modifying staffing patterns and models to ensure appropriate coverage for the expanded patient care footprint," said Sarah Arnett, Patient Care Services and Chief Nursing Officer.
Staff
The transformation from traditional nursing areas to COVID-19 treatment centers came with significant demands on staff.
"One day, our entire world as we knew it turned upside down,"" said Jacqueline WIlliams, clinical supervisor of 5 Layfield, one of the floors that had cared for neurological and post-surgical patients that now cares for COVID-19 patients. "Instead of using fear to disable us, we have used it to empower us. We have asked so many questions, things no one thought about yet. Ways and ideas to improve processes. Ways to keep everyone safe. We are doing a type of nursing that we never thought would exist."
For the community's well-being, in early March the health system was already limiting visitation, canceling large, planned gatherings such as HealthFest, and ensuring that doctor's offices could still see patients safely. The Information Services team worked diligently to set up telemedicine capacity so patients could remain at home and still obtain needed care.
As the health system stopped performing elective surgeries and procedures, many staff members found themselves filling new roles.
"Units are sharing staff, being nimble and continuing to provide exceptional care every day, "Arnett said. "Clinical educators quickly took on the widespread need to retrain staff on personal protective equipment, how to care for the patient with COVID-19 and worked closely with frontline leaders, staff and physicians to plan for new workflows as a result of the increased space. All the services within the hospital that support patient care have been remarkably innovative in how they have changed to accommodate our new environment as well."
Supplies
The Supply team has worked many late hours sourcing PPE from around the world – and competing with hospitals and health organizations around the world, too.
"Based on experience with previous supply chain disruptions due to viruses like SARS, H1N1,  and Ebola, we knew we had to act fast and get ahead as best we could so when we started seeing allocations appearing with our current vendors that was the key moment to start our sourcing efforts and build inventory," said Scott Phillips, Vice President of Supply Chain and Support Services.
When the pandemic started, PRMC had an ample supply of N95 masks and continues to build on it, but never before had there been a situation requiring absolutely everyone to be in masks.
"We networked and reached out to supply chain colleagues and worked directly with other health systems, third logistical parties and cargo companies to secure large bulk 'quick turn cycle time' orders from manufacturing companies in China and Vietnam - ear loop masks and gowns," Phillips said.
The participation of physicians, nurses and other staff was also crucial, Phillips said, as many provided leads and connections that might have otherwise been missed. Our partnership with Nanticoke Memorial Hospital was also vital, he added. "We leveraged both purchasing organizations to secure max levels of distributor allocations and source alternate PPE supplies, that gave us the ability to transfer supplies between the hospitals and rebalance inventory based on spikes in demand requirements."
The quick action of the Supply team resulted in more than 620,000 surgical and ear loop procedure masks, 187,500 isolation gowns, 5,000 face shields, 1,600 sets of scrubs, 8 pallets of linens, and 100 ventilators.

"As experienced Supply Chain leaders we have good instinct, energy and edge, and need to be creative in our sourcing efforts and available channels – if the product is available, we go get it," Phillips said. "Some of that is leaning on current or past relationships and/or industries we have worked in. Tom Diehl, our Senior Director of Supply Chain, and I used those relationships in prior engagements and different high-tech industries to secure potential leads and/or products. Sometimes it was about relationships and knowing who you could reach out to and trust, because several deals required wiring payment in advance of the product receipt. Supply Chain networking at its best."
 
The Delmarva community has also stepped up to support staff and patients.
Local spirits distillery Seacrets donated 130 gallons of hand sanitizer. Many local businesses and community members shared everything from respirators to handmade cloth masks.
"I would be remiss to leave out the part that our community partners have played in the pandemic response, supporting the hospital with PPE donations, meals for staff, cloth masks, intubation boxes and shields, offers for temporary housing, hand sanitizers, flowers for our homes and list goes on and on," Arnett said.
A common refrain throughout the pandemic has been: "We'll get through this together." Despite the difficulties and physical separation caused by COVID-19, the united efforts of the Delmarva community and the health system's employees working together have made a difference. The response to COVID-19 has made us readier than ever.
"Each team, regardless of their role within the organization, has demonstrated that we can respond quickly, effectively and with a strong purpose to remain steadfast in our mission to care for our community," Arnett said.