Posted on December 10, 2016
Image: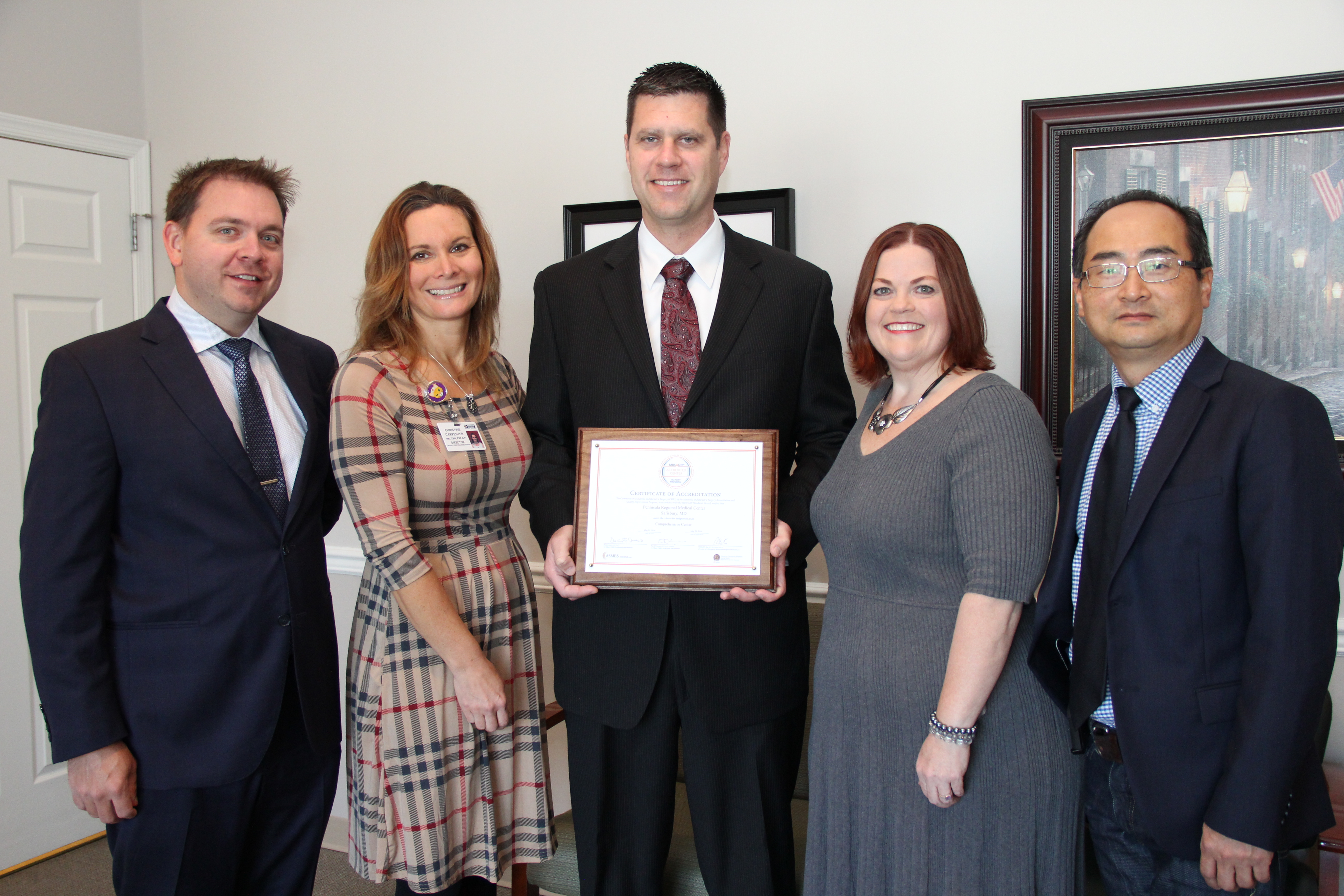 Patients seeking surgical treatment for severe obesity and its related conditions have a high-quality choice for receiving treatment at a nationally accredited program that meets the highest standards for patient safety and quality of care on the Delmarva Peninsula.
Peninsula Regional Medical Center (PRMC) and its bariatric surgeons have again been accredited, for a fourth consecutive three-year cycle, as an American Society for Metabolic and Bariatric Surgery (ASMBS) Bariatric Surgery Center of Excellence under the Metabolic and Bariatric Surgery Accreditation and Quality Improvement Program (MBSAQIP®), a joint program of the American College of Surgeons (ACS) and the American Society for Metabolic and Bariatric Surgery (ASMBS).
The MBSAQIP designation recognizes surgical programs with a demonstrated track record of favorable outcomes in bariatric surgery.  Peninsula Regional Medical Center offers patients on the Delmarva Peninsula bariatric procedures like the gastric sleeve, gastric bypass and laparoscopic banding as well as nutritional, exercise and support services at its Peninsula Regional Weight Loss & Wellness Center.
Surgeons and centers with the MBSAQIP designation, like Peninsula Regional Medical Center, provide only top-quality care with individualized care plans to help each patient safely reach his or her own personal goals. The MBSAQIP Standards, outlined in the Resources for Optimal Care of the Metabolic and Bariatric Surgery Patient 2014 ensure that bariatric surgical patients receive a multidisciplinary program, not just a surgical procedure, which improves patient outcomes and long-term success. The accredited center offers preoperative and postoperative care designed specifically for their severely obese patients.
"There continues to be a prevalence of morbid obesity in our region and with it an inherent risk of a number of associated complications, but we can and do help our patients eliminate those risk factors every day at PRMC through bariatric surgery," said Un Chin, MD, bariatric surgeon and Medical Director of the Bariatric Surgery Program at Peninsula Regional.  "We recognized the need to implement a systematic approach to improving quality of life, which continues making available to our patients the very best surgical options and outcomes, nutritional lifestyle changes and exercise, all of which are essential to success."
PRMC's commitment to quality bariatric care includes a team of appropriately trained staff, leadership, and surgeons who participate in meetings regularly throughout the year to review surgical outcomes.  They seek continuous improvement to enhance the structure, process and outcomes of the center.
To earn the MBSAQIP designation, Peninsula Regional met essential criteria for staffing, training and facility infrastructure and protocols for care, ensuring its ability to support patients with severe obesity. The center also participates in a national data registry that yields semiannual reports on the quality of its processes and outcomes, identifying opportunities for continuous quality improvement. The standards are specified in the MBSAQIP Resources for Optimal Care of the Metabolic and Bariatric Surgery Patient 2014, published by the ACS and ASMBS. "At PRMC we believe that the MBSAQIP designation remains a catalyst that motivates strong programs like ours to get even better," said Dr. Peggy Naleppa, MS, MBA, FACHE, President/CEO of Peninsula Regional and the Peninsula Regional Health System. "We have done our part by creating a bariatric surgical program and state-of the-art center that safely treated 400 patients last year with outcomes that rival the best programs in the nation."
Morbid obesity is closely correlated with a number of serious conditions that severely undermine the health of overweight patients, including heart disease, high blood pressure and diabetes.  Bariatric surgery, when performed correctly, can help patients affected by obesity manage these conditions.  
To learn more about bariatric surgery, weight loss and wellness services at Peninsula Regional Medical Center, please visit their website at www.peninsula.org, or call Christine Carpenter, RN, CBN, FNE-A/P, Program Director at Peninsula Regional's Weight Loss and Wellness Center at 410-677-1040 or email her at [email protected].
In the photo:  The Bariatric Program physicians and leadership at Peninsula Regional Medical Center celebrate their recent MBSAQIP reaccreditation. Left to right in the photo are, William Haberlin, MD; Christine Carpenter, RN, CBN, Director; Brion McCutcheon, MD; Patty Houston, RN, CBN, Coordinator and Un Chin, MD.