Posted on May 21, 2019
Image: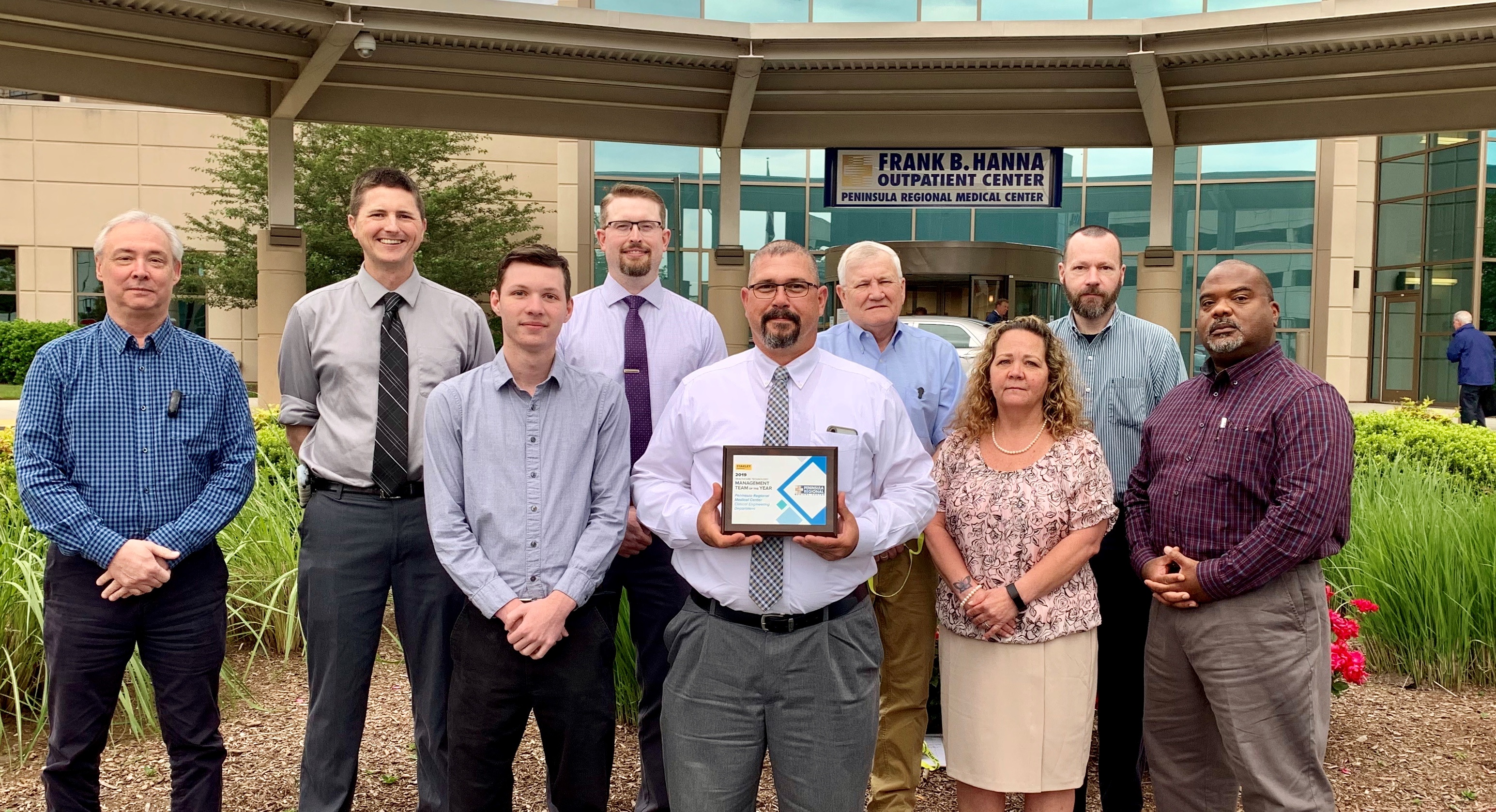 STANLEY Healthcare today named Peninsula Regional Medical Center (PRMC) and its Clinical Engineering team its 2019 Healthcare Technology Management Team of the Year.  The award announcement coincides with the Association for the Advancement of Medical Instrumentation® (AAMI) Healthcare Technology Management (HTM) Week. 
The Clinical Engineering team at PRMC, led by Mark Cornelius, was recognized for being an early adopter and innovator of STANLEY Healthcare's AeroScout® Real-Time Location System (RTLS) technology.  RTLS uses wireless tags attached to assets to enable real-time tracking of the location and status of assets.  One of the great advantages for PRMC is that the technology assists the Medical Center in locating critical medical assets for maintenance and preventing their misplacement to help ensure efficient and effective patient care.
"Our long-time partnership with STANLEY Healthcare has allowed us to find new and more efficient ways to manage our medical equipment and reduce costs.  Over time, it has been great to see other areas of the organization adopt and benefit from the RTLS platform as well," said Mark Cornelius, Director of Clinical Engineering at PRMC.  "I'm honored to accept the award on behalf of our outstanding team."
In presenting PRMC the award, STANLEY Healthcare Solutions and Analytics Manager, Jeff Guyot, said, "Mark and the Clinical Engineering team at PRMC stand out for their consistent commitment and proven results in leveraging AeroScout RTLS technology. From the earliest days of our collaboration, Mark has been a true innovator of RTLS. His vision and leadership have enabled PRMC to save money and improve patient care across the organization."
A few of the achievements recognized by STANLEY Healthcare include:
•             In one year alone, PRMC avoided $250,000 in additional infusion pump purchases.
•             With real-time visibility and alerts, PRMC saves an estimated $36,000 per year on telemetry monitors that might otherwise have been lost to shrinkage.
•             The clinical engineering team performs preventive maintenance on 100% of their infusion pumps in 10 days, significantly faster and complete prior to the system.
•             By automating temperature monitoring, PRMC freed up 1,700 hours per year of clinicians' time.
PRMC continues to be at the forefront of using RTLS to power multiple use cases—from PAR Level Management and Shrinkage Control to Temperature Monitoring and Infant and Staff Protection. The Medical Center is a key partner of STANLEY Healthcare in ideation and innovation extend the impact of real-time technology in healthcare. 
In the photo, PRMC's Clinical Engineering Department, led by Mark Cornelius, center, has been named 2019 Healthcare Technology Management Team of the Year by STANLEY Healthcare.