Posted on July 31, 2018
Image: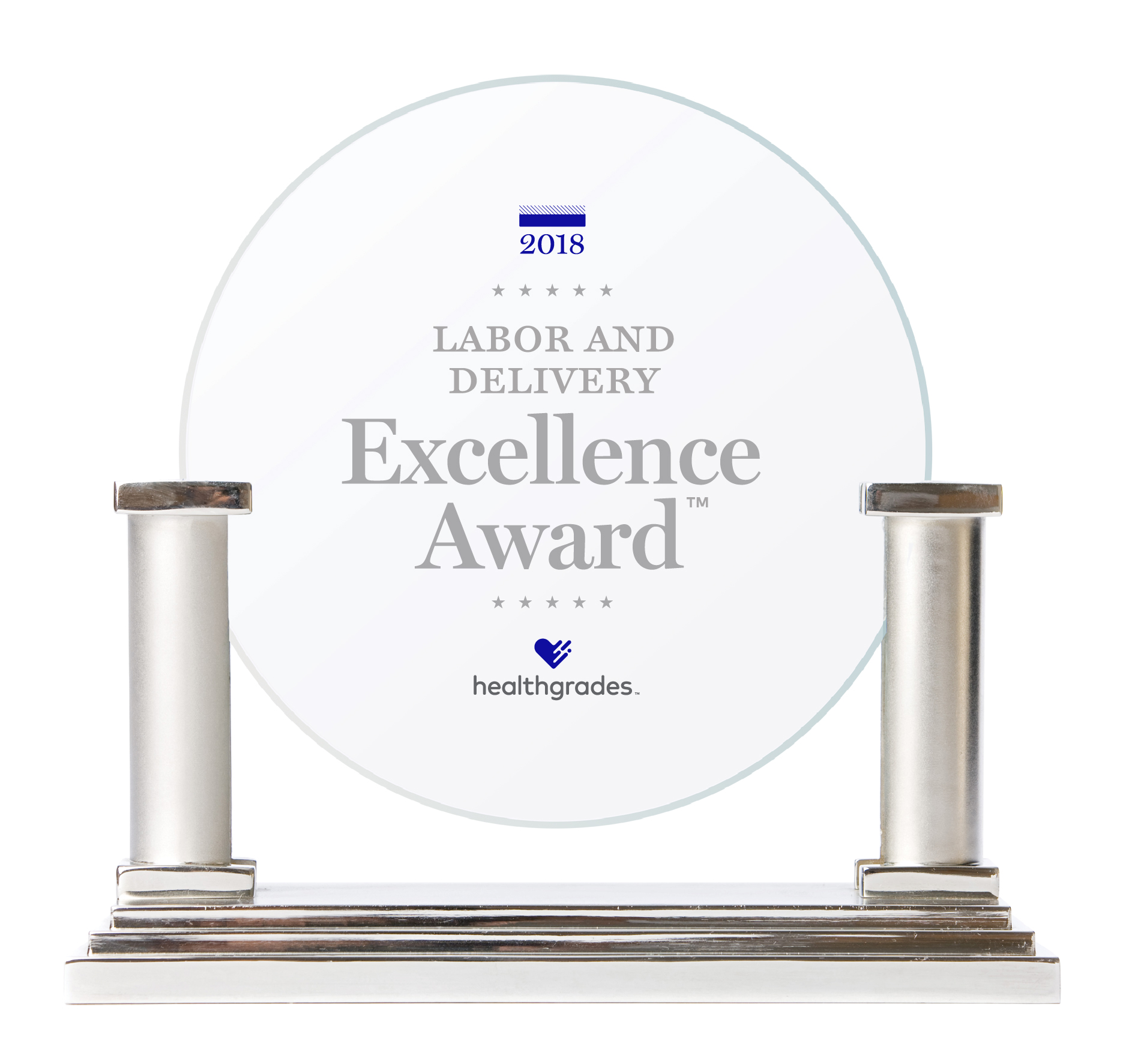 Peninsula Regional Medical Center (PRMC) today announced that it has received the Healthgrades 2018 Labor & Delivery Excellence Award.  Additionally, PRMC was also named a 5-Star recipient from Healthgrades in both C-Section and Vaginal Deliveries. 
The Clinical Excellence Award places PRMC in the Top 10% of all United States hospitals evaluated for the care provided to mothers during labor and delivery. The 5-star ratings indicate that Peninsula Regional's clinical outcomes are statistically significantly better than expected for vaginal and C-section deliveries.
"This is a great honor for an outstanding, caring and compassionate Women's and Children's team here at Peninsula Regional," said Steve Leonard, MBA, FACHE, President/CEO of PRMC.  "As a family-centered Medical Center, we welcome around 2,000 babies into our community each year.  We are proud that this award reflects the high-quality, safe, nurturing environment we work to provide for new mothers. Our obstetrical  team works with families on a full spectrum of birthing options – from low-intervention births assisted by midwives with a physician's support, to providing complex care for  high-risk pregnancies. PRMC also has a team of dedicated neonatologist and neonatal nurses that provide intensive care for babies who may require respiratory support and closer observation in our Special Care Nursery."
To help consumers evaluate and compare hospital performance in labor and delivery, Healthgrades analyzed patient outcome data for virtually every hospital in the 15 states and the District of Columbia that provide all-payer state data for years 2014 through 2016. Healthgrades found that the variation in hospital performance makes a significant difference in terms of clinical outcomes:  
• From 2014 to 2016, if all hospitals included in the analysis performed similarly to those that received the Healthgrades Labor and Delivery Excellence Award, complications could have potentially been avoided for 101,543 patients.
• From 2014 through 2016, patients treated in hospitals receiving the Labor and Delivery Excellence Award, Like PRMC, had, on average, a 36.8 percent lower risk of experiencing a complication while in the hospital than if they were treated in hospitals that did not receive the Labor and Delivery Excellence Award.
"Consumers value high-quality outcomes when selecting hospitals, especially with delivery of a child," said Brad Bowman, MD, Chief Medical Officer at Healthgrades. "Parents have many options when looking for the right providers, and the Healthgrades 2018 Labor and Delivery Excellence Award gives them important insight to find the top hospitals in their areas."
PRMC is also the recipient of the Healthgrades 2018 Distinguished Hospital Award for Clinical Excellence™.  The distinction recognizes PRMC as one of the top five percent of nearly 4,500 hospitals nationwide for its clinical performance as measured by Healthgrades, the leading online resource for comprehensive information about physicians and hospitals.
Peninsula Regional also received the following significant recognitions from Healthgrades in 2018:
•           America's 50 Best Hospitals for Vascular Surgery
•           America's 100 Best Hospitals for Prostate Surgery
•           America's Best 100 Hospitals for Stroke Care
•           Top 5% in the Nation for Neurosciences
•           Top 5% in the Nation for Overall Pulmonary Services
•           Top 10% in the Nation for Overall GI Services
•           Top 10% in the Nation for Overall Orthopaedic Services
This year, Peninsula Regional was also recently recognized by the Centers for Medicare & Medicaid Services with a 5-Star Rating – the agency's best – for the care it provides and the outcomes experienced by patients.  PRMC was just one of four Maryland hospitals to be recognized by CMS with the 5-Star designation and the only hospital on the Eastern Shore. 
"With maternity services dedicated to the entire family unit, our entire team – including Labor & Delivery and Mother/Baby – addresses the family's complete medical, personal and emotional needs," added Diane Hitchens, Director, Women's and Children's Services at PRMC.