Posted on September 19, 2019
Image: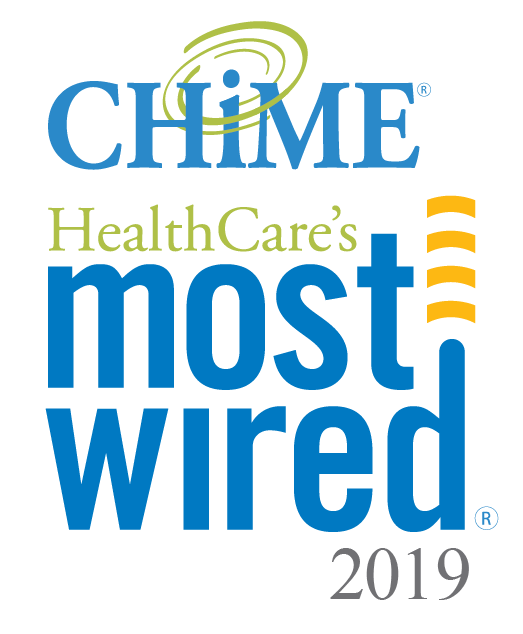 The College of Healthcare Information Management Executives (CHIME) is pleased to announce that Peninsula Regional Medical Center (PRMC) has again earned 2019 CHIME HealthCare's Most Wired recognition. PRMC has been honored with a Most Wired Award or Most Improved Hospital Award a total of 12 times in the 21 years of the survey — 10 of those consecutively — for the use of information technology (IT) in support of medication and patient safety, information exchange and data protection.
The award recognizes Peninsula Regional for deploying technologies and strategies (e.g., population health/cost-of-care analytics, health information exchanges/integration engines and patient portals) to help them analyze their data to achieve meaningful clinical and efficiency outcomes. Some organizations, including PRMC, are experimenting with more advanced technologies such as telehealth that expand access to care.
The Most Wired program conducts an annual survey to identify, recognize and certify the adoption, implementation and use of information technology by healthcare provider organizations. The most successful, including PRMC, not only adopt technology but also apply it strategically to achieve improved outcomes.
"Healthcare organizations across the globe are continually striving to raise the standard of care, pushing themselves and their peers to do better," said CHIME President and CEO Russ Branzell. "We designed Most Wired to identify and share those leading practices so everyone can benefit. It is an honor to be among those that perform at the highest levels, knowing that the excellence they achieve will impact patients for years to come."
"As Peninsula Regional Medical Center and the Peninsula Regional Health System continue our transition to more integrated and patient-centered care away from the traditional hospital setting, the use of information technology to better connect patient with provider is essential in providing each the knowledge and information necessary to make informed healthcare decisions about treatment and care options," said Ray Adkins, PRMC's Chief Information Officer. "Delivering the highest quality and safest care, both here on the PRMC campus and across our region, is a cornerstone of our mission to improve the health of the communities we serve."
The 2019 Most Wired program represented 16,168 organizations, which this year were evaluated via three separate surveys: domestic, ambulatory and international. The surveys assessed the adoption, integration and impact of technologies in healthcare organizations at all stages of development, from early development to industry leading.
Technology is making it easier for patients to interact with providers like PRMC, thus improving communication, safety and patient-provider relationships. New tools are helping patients become more actively involved in their care and maintaining their health.
Most Wired hospitals are transforming care delivery with knowledge gained from data and analytics. They are investing in analytics to support new delivery models and effective decision-making and training clinicians on how to use analytics to improve quality, provide access and control costs.