Posted on July 14, 2017
Image: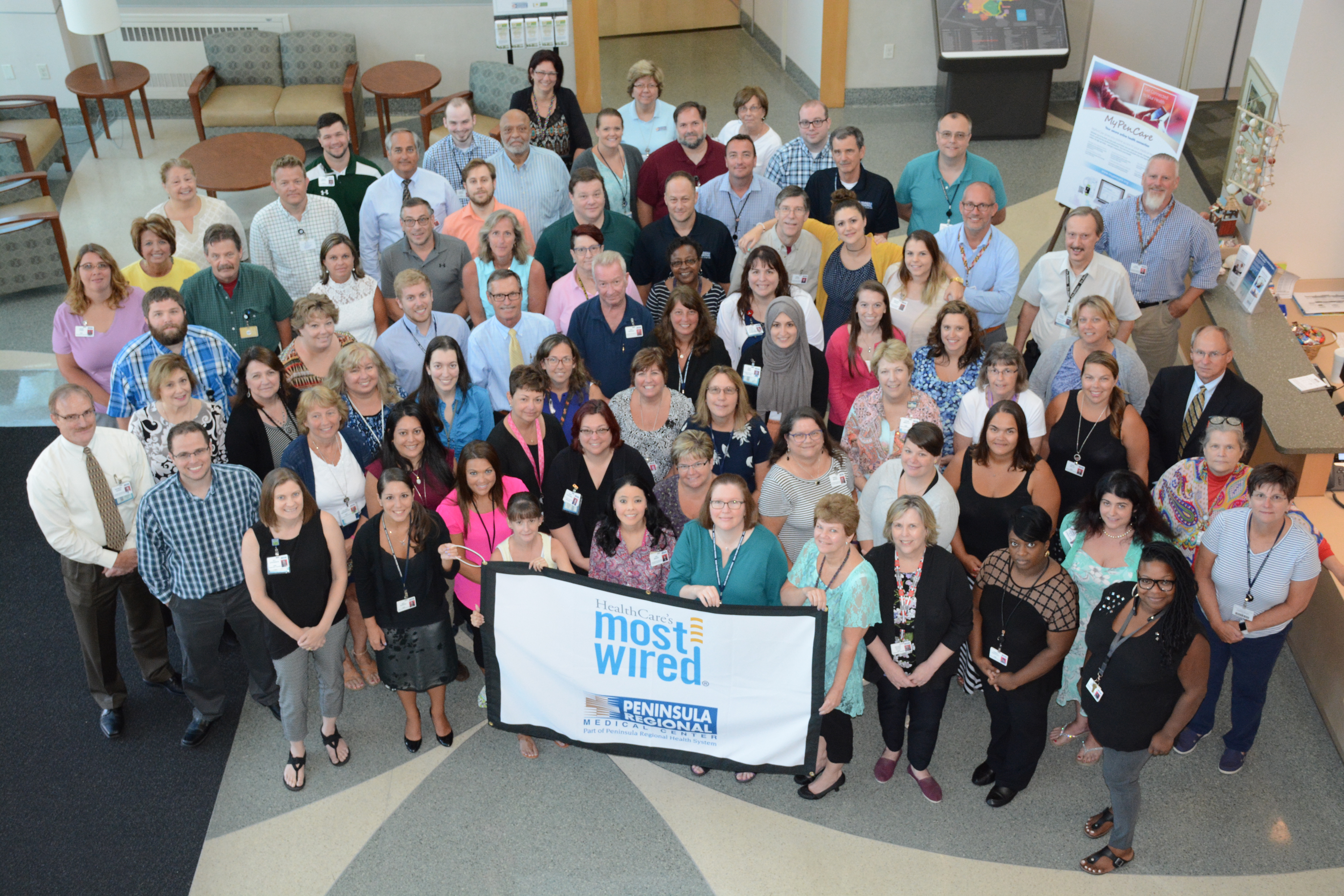 Peninsula Regional Medical Center (PRMC) has been recognized for an 8th consecutive year as one of the nation's Most Wired Hospitals, according to the results of the 2017 Most Wired Survey released in the July issue of the American Hospital Association's (AHA) Health & Hospitals Networks magazine. 
PRMC has been honored by the AHA with a Most Wired Award or Most Improved Hospital Award a total of 10 times in the 19 years of the survey for its use of information technology (IT) in support of medication and patient safety, information exchange and data protection.  In 2017, Peninsula Regional was one of just 10 hospitals in Maryland honored with the award.
The 2017 Most Wired® survey and benchmarking study of 698 participants representing an estimated 2,158 hospitals, is a leading industry barometer measuring information technology (IT) use and adoption among hospitals nationwide.  It examines how organizations are leveraging IT to improve performance for value-based health care in the areas of infrastructure, business and administrative management; quality and safety; and clinical integration.
 "As Peninsula Regional Medical Center and the Peninsula Regional Health System transitions to more integrated and patient-centered care away from the traditional hospital setting, the use of information technology to better connect patient with provider is essential in providing each the knowledge and information necessary to make informed healthcare decisions about treatment and care options," said Ray Adkins, PRMC's Chief Information Officer.  "Delivering the highest quality and safest care, both here on the PRMC campus and across our region, is a cornerstone of our Medical Center's mission to improve the health of the communities we serve."
Technology is making it easier for patients and providers, like PRMC, to interact, thus improving communication, safety and patient-provider relationships. New tools are helping patients become more actively involved in their care and maintaining their health.
According to the survey, Most Wired hospitals are using smart phones, telehealth and remote monitoring to create more ways for patients to access healthcare services and capture health information.
"The Most Wired hospitals are using every available technology option to create more ways to reach their patients in order to provide access to care," said AHA President and CEO Rick Pollack. "They are transforming care delivery, investing in new delivery models in order to improve quality, provide access and control costs."
Innovation in patient care embraces emerging technologies and underscores the need for secure patient information exchange. Hospitals have increased their use of sophisticated IT monitoring systems to detect patient privacy breaches, monitor for malicious activities or policy violations and produce real-time analysis of security alerts.
• 97 percent use intrusion detection systems.
• 96 percent perform data access audits.
• Nearly 90 percent run targeted phishing exercises to teach employees to question suspicious emails.
Most Wired hospitals are transforming care delivery with knowledge gained from data and analytics.  They are investing in analytics to support new delivery models and effective decision-making and training clinicians on how to use analytics to improve quality, provide access and control costs.
Detailed results of the survey and study can be found in the July issue of H&HN. For a full list of winners, visit www.hhnmag.com.
Photo Caption:  Members of the Peninsula Regional Medical Center Information Technology team celebrate the hospital's 8th consecutive Most Wired Award from the American Hospital Association.