Posted on May 19, 2020
Image: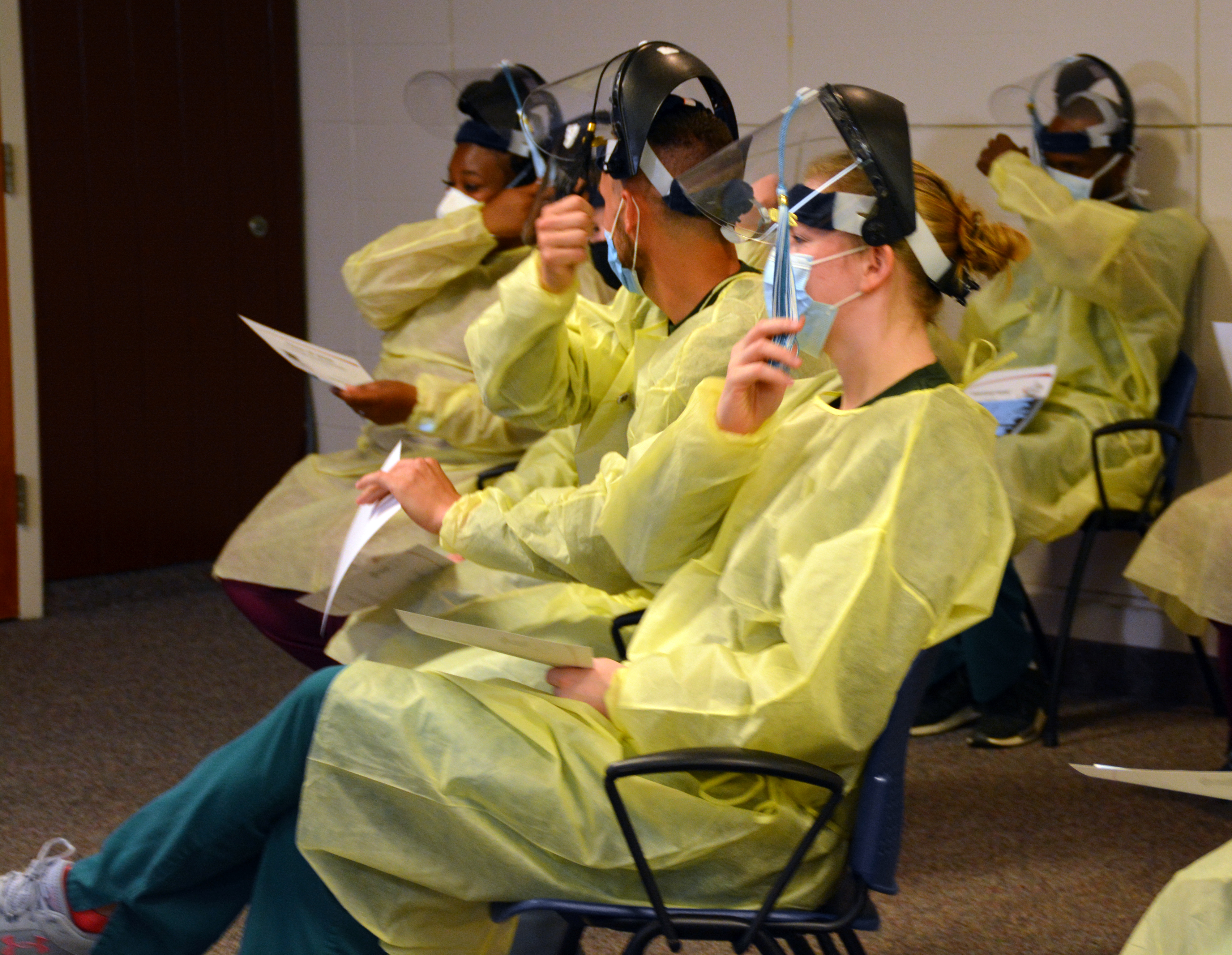 COVID-19 has changed how we celebrate, postponing milestone moments such as graduations. Peninsula Regional Medical Center is home to many students – both employees furthering their education and those on clinical rotations. When nursing director Tom Jones and Progressive Care Unit clinical manager Maria Tawes learned that nine employees were graduating from nursing school and wouldn't get to take part in the traditional ceremony, they and their team stepped up to plan a safe, socially distanced celebration to mark the occasion and to thank them for joining the nursing profession at such a crucial time.
"As with many circumstances lately, we understood the need to do things differently, so we wanted to recognize those that had worked to achieve their goals," Tawes said. "Although this ceremony was not what the graduates had envisioned, it was important to recognize and acknowledge that their hard work and dedication had not gone unnoticed."
It was a different kind of celebration – but certainly a memorable one. Held in PRMC's Avery W. Hall Educational Center auditorium, in a building that once housed Peninsula General Hospital's nursing school, the students walked a stage that had been crossed decades earlier by graduating nurses, before the program moved to Salisbury University 40 years ago. But this graduation was uniquely 2020. Rather than the graduation robes and starched nursing caps of years past, students wore isolation gowns and turned their tassels atop helmets with face shields.
"Today is born of necessity, and I'm we haven't been able to do certain things as a society, but we're happy here to support you," Peninsula Regional Health System President/CEO Steve Leonard told the graduates. "I can't think of a more memorable year to graduate. You'll look back and be incredibly proud of your accomplishment during this time, to step up during a time like this, to become nurses in this profession."
Leonard gave the keynote address, Chief Nursing Officer Sarah Arnett handed the graduates their diplomas and pinned their gowns. Pinning is an age-old nursing tradition that symbolizes a nurse's acceptance into the profession. It goes hand-in-hand with the lamp lighting ceremony, led at the PRMC graduation by Wor-Wic Community College Nursing Professor Lynn Derickson. Nursing graduations traditionally feature a lamp-lighting ceremony in honor of Florence Nightingale, the woman born 200 years ago who was known as "the Lady with the Lamp" as she made her rounds treating wounded soldiers of the Crimean War, and who essentially established modern nursing practice.
"In your second week of 101, did you ever think you'd be sitting at your capping and pinning like this? We learned PPE in the second week," Derickson said. Derickson also led the graduates in the Florence Nightingale Pledge, a version of the Hippocratic Oath created in 1893 that lays out the ethics and principles of the nursing profession.
Peninsula Regional Medical Center was honored to celebrate these employees earning their associate's degree in nursing:
Jessica Bonneville
Lauren Engleman
Geoff Failla
Katelyn Guy
Chelsea Mansfield
Dalmus Richardson
Claire Schirmer
Eddie Turner
Stacey Wood
See the video of the ceremony at our Video Hub: https://www.peninsula.org/iamprmc