Posted on November 16, 2016
Image: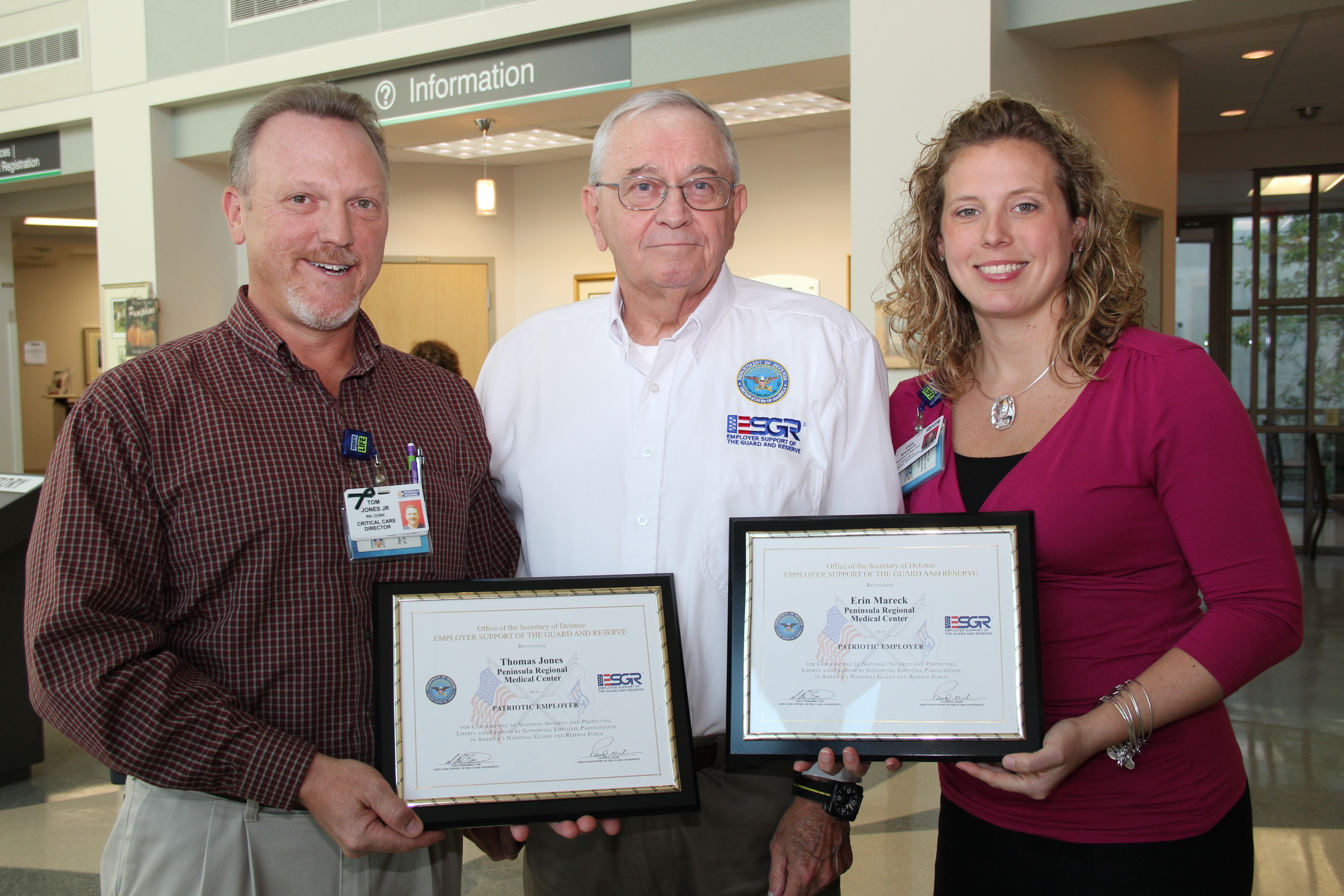 For a second consecutive year, Peninsula Regional Medical Center (PRMC) has been presented the Patriot Award for its support of the civilian soldier. PRMC was nominated by U.S. Army Reserve 1st Lt. Michael Boyle, RN, BSN, TNCC, of the Cardiothoracic Intensive Care Unit (CTICU) at the Salisbury, MD hospital. The critical care division's clinical leads, Tom Jones, RN, BSN, CCRN, Director of Critical Care at PRMC and Erin Mareck, RN, BSN, CCRN-CSC, Clinical Manager of the ICU and CTICU at PRMC accepted the award.
The Patriot Award was created by the Employer Support of the Guard and Reserve (ESGR), a Department of Defense agency, to publicly recognize individuals who provide outstanding patriotic support and cooperation to their employees who, like the citizen warriors before them, have answered their nation's call to serve. PRMC, Jones and Mareck were nominated by Boyle for being highly supportive of the U.S. Army Reserves and providing crucial support to maintaining the strength and readiness of the nation's Guard and Reserve units.
"The way that Erin and Tom support me as a reservist is unparalleled to any other civilian supervisor I have had in the past," said Boyle. "As a result of their and PRMC's support, I am able to continue to serve my country in the capacity that I do."
Receiving the Patriot Award for a second consecutive year is truly an honor for hospital leadership and its patients. "In Michael and all of our other reservists, our patients benefit from those extremely positive behaviors and values like professionalism, leadership, and passion, and it demonstrates parallels, particularly in what we are looking for in our employees. It only reinforces why it's so important for us to be as supportive of the reserves as we can be as a hospital and as a healthcare team," said Dr. Peggy Naleppa, MS, MBA, DrM, FACHE, President/CEO of Peninsula Regional Medical Center and the Peninsula Regional Health System.
To learn more about opportunities to support reservists in the workplace, please contact the Maryland chapter of the Employer Support of the Guard and Reserve at 800-336-4590 or online at www.ESGR.mil.
Lt. Colonel Ray Simmons, Jr., Eastern Shore Regional Chairman, Maryland ESGR, center, presents to Tom Jones and Erin Mareck of the Critical Care Division at PRMC the 2016 Patriot Award for the Medical Center's support of the civilian soldier. This is the second consecutive year that PRMC has been presented the Patriot Award.