Posted on March 28, 2019
Image: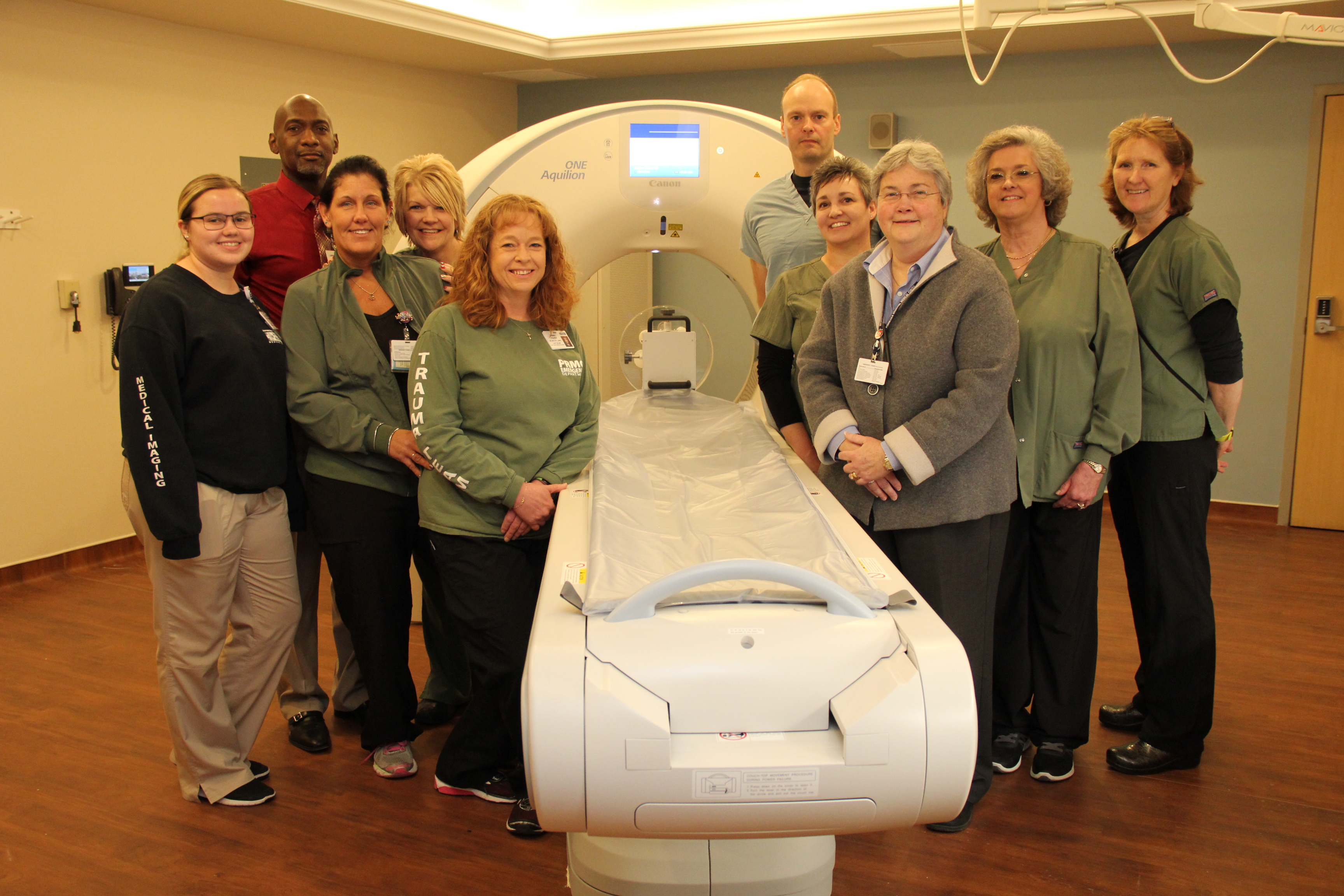 Patients and clinicians at Peninsula Regional Medical Center's (PRMC) Robert T. Adkins, MD Emergency/Trauma Center now have access to the latest in dynamic Cat Scan (CT) technology with the recent installation of a new Canon Aquilion ONE/GENESIS edition.  PRMC is the first hospital on Delmarva to install the premium CT technology, and one of just six in Maryland.
The Aquilion ONE is a small, lightweight system that uses less power and allows technologists to automatically set the optimal dose for every procedure and precisely tailor the scan for every patient.
The 320 rows of detectors enables PRMC's medical imaging professionals to perform both routine and advanced scans of the entire body, and to do that faster and with lower doses of radiation for a wide range of patient populations.  That's important, because an average of 36,850 CT scans are performed annually, including stroke and trauma patients, at PRMC.
"Precise, short, one-rotation scans allow us to lower the dose of contrast, reducing risk but still permitting the scanning of sensitive organs like the brain and heart," said Mary Lou Melhorn, Director of Medical Imaging at PRMC.  "It also makes it possible to scan more dose-sensitive people, like pediatric, critically ill or trauma patients.  Best, it does this very quickly with excellent image quality, which means our physicians are able to visualize and detect injuries and disease in less time." 
Although smaller than a traditional CT, the system features a patient centric design.  Its gantry (the opening) is flared, offering a calming, less tunnel-like, wide-open space for a better patient experience.  Those benefits, combined with a reinforced table-the widest available-also makes imaging the bariatric population up to 694 pounds easier with increased patient comfort.
The Aquilion ONE system at PRMC offers patients a radiation dose reduction of 31% for body scan and 22% for brain scans compared to older systems.
In the photo, members of the Peninsula Regional Medical Center Cat Scan team with Medical Imaging Director, Mary Lou Melhorn, front right, and Dr. David Nizza, Medical Imaging Medical Director, back right, welcome PRMC's new Aquilion ONE CT scanner.