Posted In Peninsula Regional News on August 18, 2014
Image: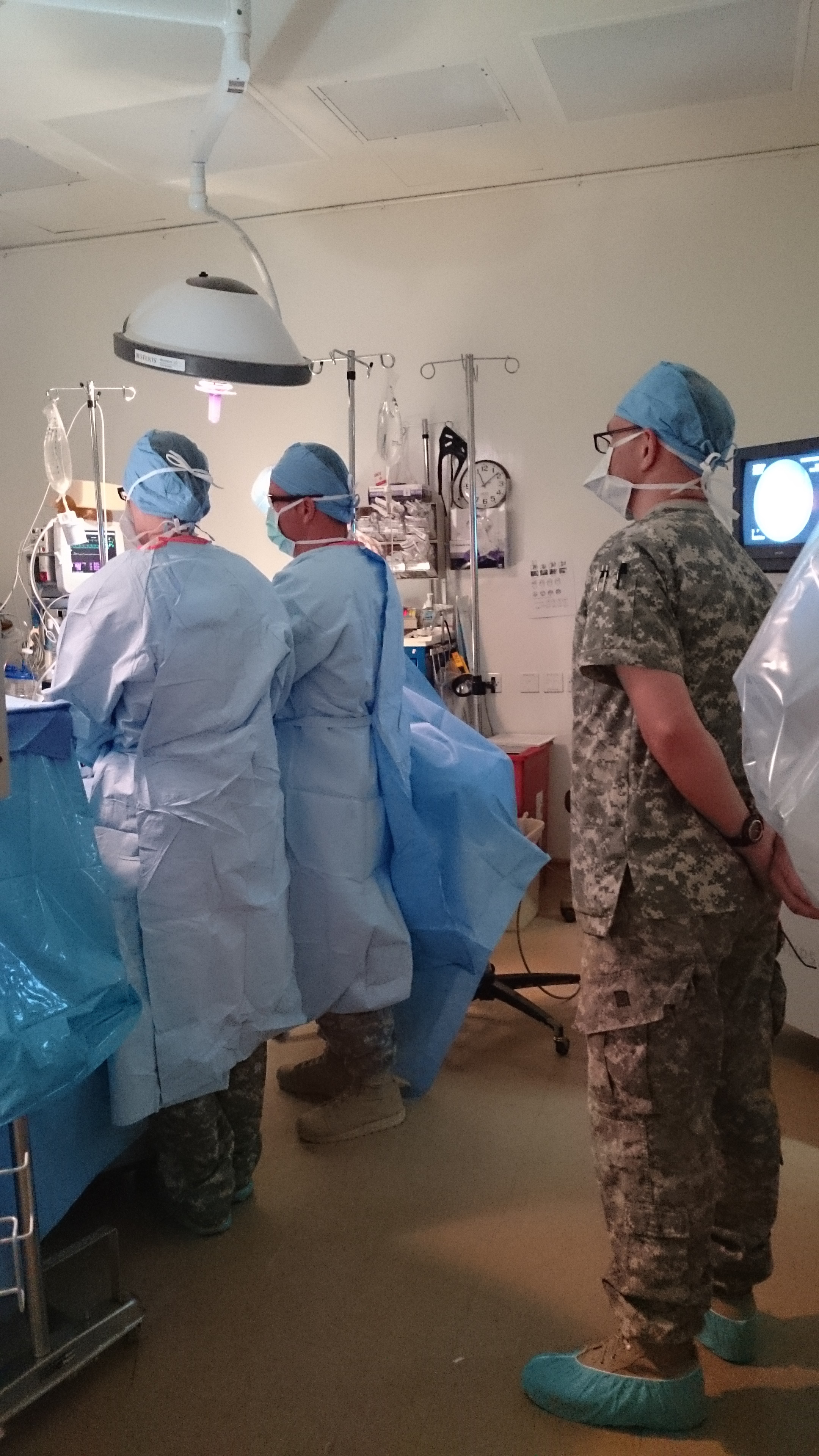 Dr. Daniel McCullough, at the table on the right (wearing the combat boots) performs a laparoscopic appendectomy on a service member.
Daniel McCullough, MD is just back from a deployment with the U.S. Army in Kuwait. Dr. McCullough, a bariatric surgeon with the Delmarva Bariatric Center and a member of our Bariatric Surgical Team, graciously answered a few of our questions about his role and his deployment.
Welcome home Dr. McCullough and thanks for your service to our country and our brave soldiers! What branch of the service are you with, Dr. McCullough?
U.S. Army.
This is Reserve service, right? How long did you serve active?
Correct, Reserve. I served on active duty from November of 2012 to March of 2013 in Afghanistan and from April to August of this year in Kuwait.
Is this your first deployment?
It's my second deployment.
Where else have you been?
Paktika province, Afghanistan with the 691st Forward Surgical Team from 2012-2013.
And this most previous deployment, where and for how long?
It was a three month deployment, from April to August, with 452nd Combat Support Hospital, Camp Arifjan, Kuwait.
I'm assuming as a surgeon, that was also your role in this deployment?
Correct. My role is general/trauma surgeon. The types of surgeries our team performed included traumatic injuries, general surgical management and endoscopic management of gastrointestinal diseases.
I'm sure you consider it an honor to continue serving this nation.
It is an honor to have the opportunity to serve my country and provide surgical care for our deployed service members.
When are you scheduled to go back?
It all depends on world events. Loosely speaking, my deployment cycles run around 12-18 months off between activations.
Anything you want to add?
I just want to thank the staffs at PRMC and Delmarva Bariatric Center who have been very supportive of my obligations to the Army, which is important to me. My family and friends have likewise been a tremendous support.