Posted In PRMC Stories on May 20, 2014
Image: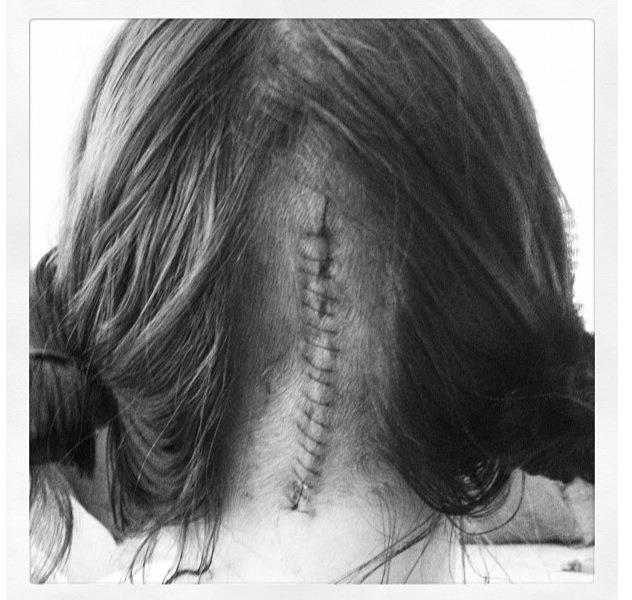 This is a guest post by Jennifer Worden of Wicomico County in honor of Brain Tumor Awareness Month - thanks for sharing your story, Jennifer! And don't forget to "go gray in May" to help raise awareness. You can read even more at the OneSalisbury blog.
Did you know 500 people will be diagnosed with a brain tumor today?
The incision on Jennifer Worden after the surgery to remove her brain tumor. Photo courtesy of Jen Worden
On May 2, 2014, I had my 2 year Cranniversary!  That's two years since my craniotomy, which successfully removed a benign tumor. On May 4, 2014, I participated in the Race for Hope in Washington, DC to help raise money for brain tumor awareness and research! People often ask me, how did I know? What made me go to the doctor? I was having really bad headaches that lasted all day - as soon as my feet hit the floor in the morning, literally.  I later learned that it happened that way because of the blood rushing to my head when standing from lying down.  Often I would bend over to pick a toy up off the floor, or my toddler, and when I came back up, I would feel very light-headed, or have "white-outs" as I called them.  A "white-out" was when I couldn't see, everything would be white, but my eyes were open.  Like someone was flashing a bright light in my eyes.  It would go away after a few seconds. I made an appointment with my general physician, which led to the CAT scan appointment, which led to my first brain MRI and the finding of my brain intruder, "hemangioblastoma." I was only 29, and wasn't expecting this diagnosis. When I headed into surgery, I couldn't help but think of the worst-case scenarios and what would happen if my 1-year-old was left without a mom.
Fortunately, my surgery was a success. It took some rehabilitation to get my strength back, but today, I am doing well.  I am more aware of my own symptoms, and I get a "check-up" MRI every 6 months to a year, depending on my symptoms. If it could happen to me, it could happen to anyone. I have learned to trust myself. If you're having symptoms, don't just hope they go away – make an appointment, and hope instead for the best outcomes and treatment. Life is too short to wait.