Posted In Peninsula Regional News on May 01, 2013
Image: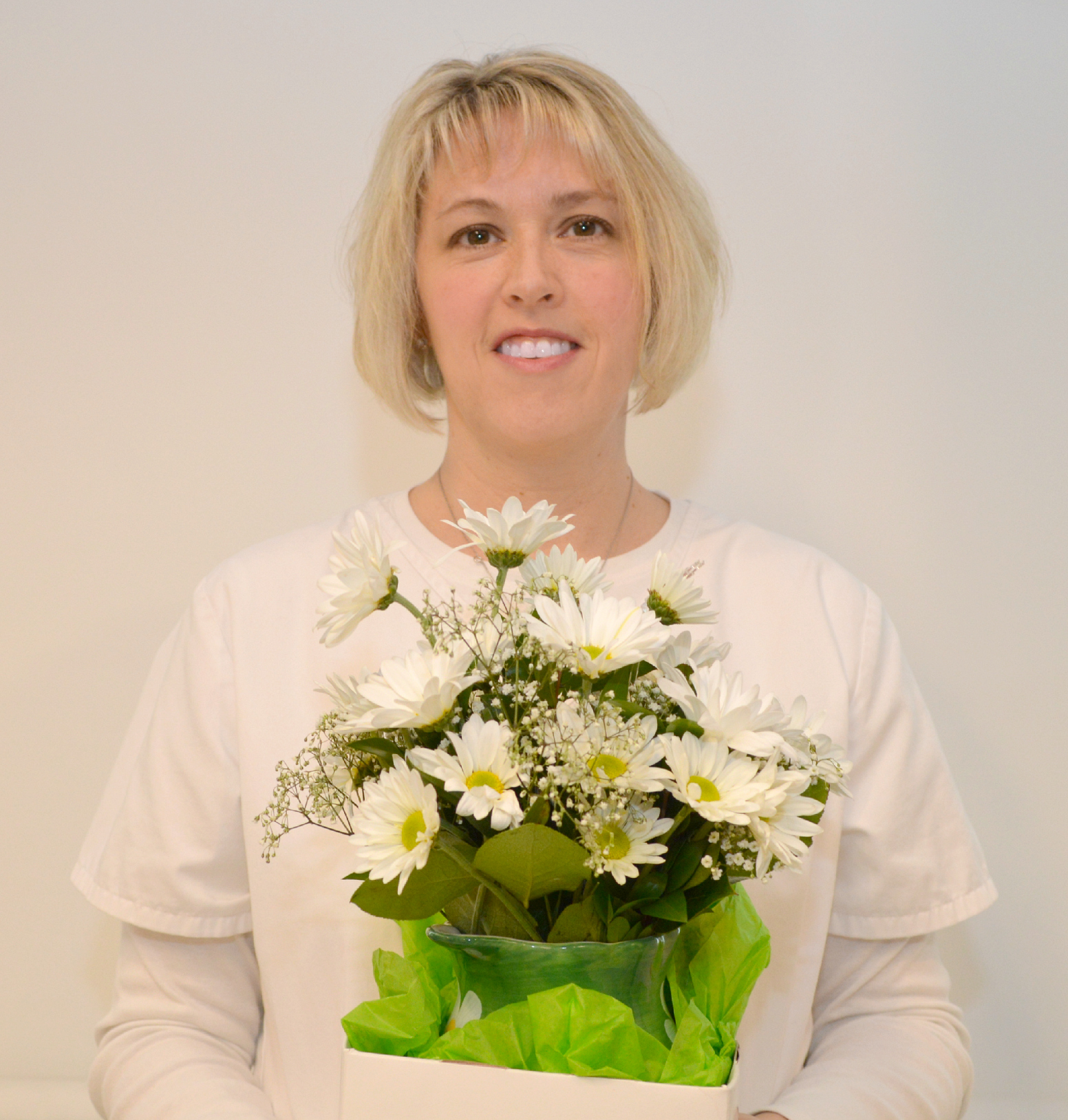 Stacy Bratten, RN, of the ICU is the April winner of the DAISY Award for Extraordinary Nurses, a national program to recognize the outstanding efforts of nurses in their daily work. Bratten's exceptional nomination came from a family member who was deeply appreciative of the time she took to talk him through a difficult decision he faced regarding his father.
Every month, a nurse is selected by Peninsula Regional's nursing administration to receive the DAISY Award. At a presentation given in front of the nurse's colleagues, physicians, patients and visitors, the honoree will receive a certificate commending her or him for being an "Extraordinary Nurse." The certificate reads: "In deep appreciation of all you do, who you are, and the incredibly meaningful difference you make in the lives of so many people." The honoree will also be given a sculpture called "A Healer's Touch," hand-carved by artists of the Shona Tribe in Africa. "We are proud to be among the hospitals participating in the DAISY Award program. Nurses are heroes every day," said PRMC Chief Nursing Officer Mary Beth D'Amico. "It's important that our nurses know their work is highly valued." Of Bratten's service, a family member wrote: "Today I had to make one of the most difficult decisions of my life – to take my 81-year-old father off of life support and allow him to die quietly with peace and dignity. It was an incredibly difficult time for me and my sisters, who are here in the ICU with us. But in the midst of all of it, I also made a friend. "I sat for hours in Dad's room in ICU today, trying to decide what to do. I'm his power of attorney, and although I was sure of what he wanted, I was a bit bewildered by the nature of this huge decision, and the way the doctors gave so much information. I knew that he wouldn't want to be kept on life support in his current state of coma, and he had an advanced directive that made this clear. But the opinions of the doctors and specialists were at times confusing, and I had no clear idea of how hospital protocol worked regarding such an important decision. "As I sat staring at my dad in the bed, distressed at his condition and not knowing what to do, your nurse Stacy Bratten sensed my state of mind and kindly, carefully started a conversation. She understood my worries, and with great compassion and care, found a way to get me open up. Before long, I was telling her all about my concerns, and she made me feel as though I was no longer alone. "Stacy spoke to me openly and honestly about my father's condition, and about her own experiences with patients, and even her own personal experiences with relatives in similar situations. … She spoke with an authority that my sisters or other family members couldn't provide – her 13 years on the ward gave her the benefit of experience, and the fact that she isn't a member of my family gave her a level of objectivity that made it easier for her to clarify the situation. Yet in all of this, she conveyed her thoughts in a way that showed she genuinely cares, and I connected with her on a level that I seldom do with someone I don't know. "In the end, I made the decision that I know my dad would have wanted, and rather than feeling conflicted, I felt relieved. It was as if the weight of eight days of uncertainty and indecision had been lifted from me. I knew that I had made the right decision for Dad, and for my family. I just needed the right person to talk it over with. "As I write this, I'm sitting in a room waiting for my father to go to his heavenly reward. But rather than feeling scared or worried, I feel at peace. Stacy went through with me and my sister what would happen, and what we might see, and I feel strongly that this is the right course of action and the way my father would want to go. This is the right thing to do. "I wanted you to know that while PRMC is a great hospital with great facilities and its doctors seem to be the finest – its limbs and brains – the real test of a place like this is its heart. Stacy was there for me and my dad today in a way that only a truly kind-hearted person could be. She not only made my father comfortable and dignified in his last hours, but she made me feel at peace with him and my difficult decision. "I imagine that Stacy does this sort of thing for patients and their families every day in ICU, without giving it a lot of thought. In a month, she may not remember my dad or me, because she does this sort of thing all the time. But I wanted you to know that tonight, when I hugged her and called her an angel, I wasn't joking. What she did for us today will stay with me the rest of my life. "Thank you for making this hospital a place that is not only populated with great technology and great minds, but with people who truly care. There's a special place in heaven for people like Stacy. But I'm glad that today, she was here on the ward with me and my dad."
To nominate a nurse, click here
.