Posted In Peninsula Regional News on February 07, 2013
Image: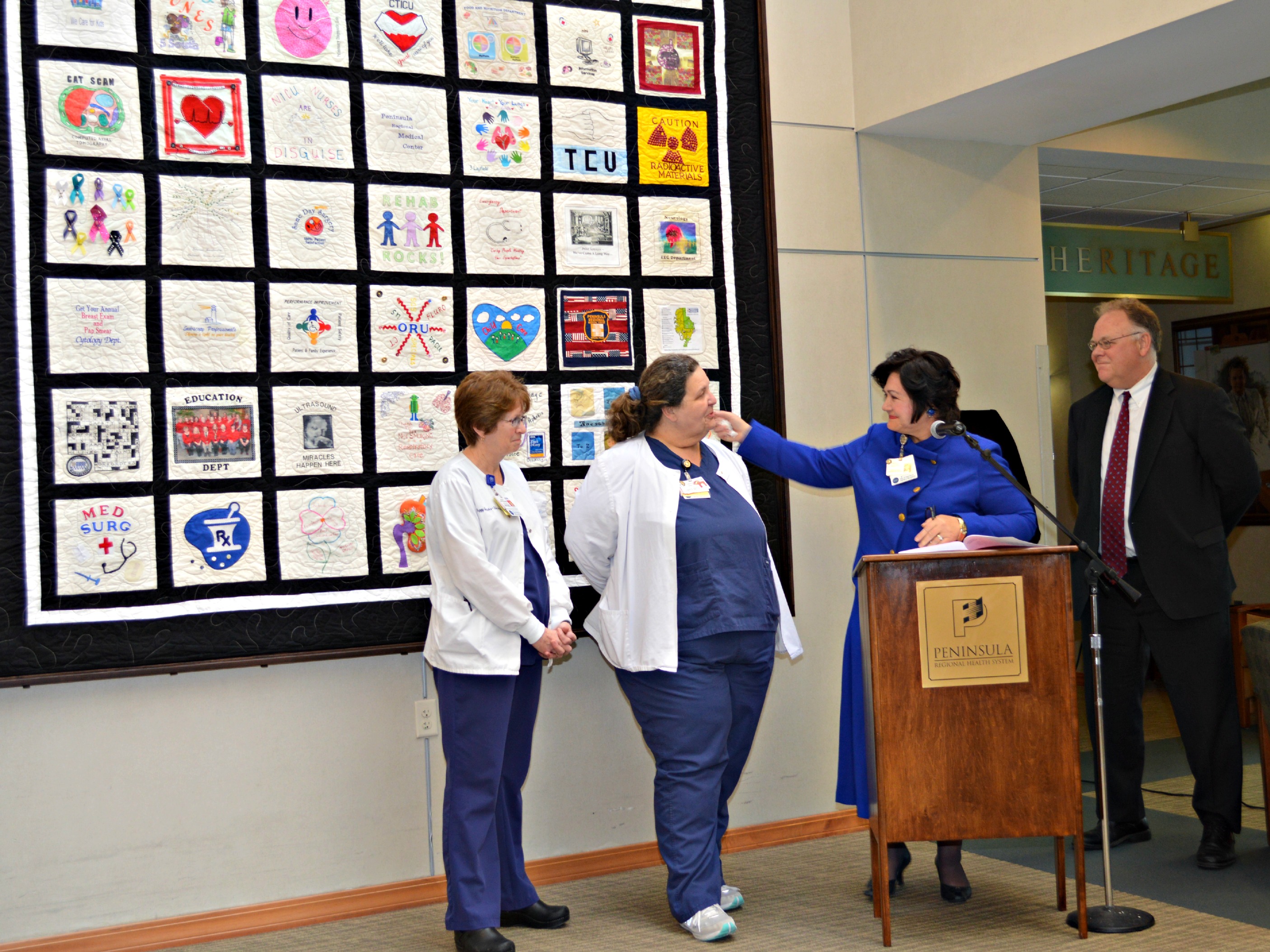 Peninsula Regional Medical Center nurses Peggy Reister-Morris, left, and Carol Deal, second from left, were the driving force behind a quilt featuring squares created by 55 individual departments across the Medical Center. Peninsula Regional President and CEO Peggy Naleppa and PRMC Board of Trustees Chairman Marty Neat were on hand for the unveiling of the quilt on Thursday, Feb. 7.
Across the continuum of care, there are a number of different departments at Peninsula Regional Medical Center each performing specific functions to meet the overall needs of every patient, much like a single square on a patchwork quilt when joined with others creates something that is complete and whole. That was the message and theme shared recently when PRMC nurses Carol Deal and Peggy Reister-Morris came up with a plan to ask the different Medical Center departments to design and create a 12-inch cloth square that, when combined with others to create a giant quilt, would represent their contribution to the total patient experience at the Salisbury hospital. That quilt was officially unveiled Thursday, February 7, 2013. It features the creativity and unique messages of 55 different PRMC clinical and non-clinical departments, divisions and units.  "We saw other hospital quilts while attending a conference in Baltimore and thought, we also have so many talented departments and people working closely together to provide exceptional healthcare to the community that we should really have our own too," added Deal, who is the Executive Director of Surgical Services at Peninsula Regional. A team of PRMC employees volunteered to sew the squares together into the single quilt, which was framed upon its completion, and will hang proudly for patients, staff and visitors in the lobby of the Guerrieri Heart & Vascular Institute at Peninsula Regional Medical Center.