Posted In Health News & Studies on December 06, 2013
Image: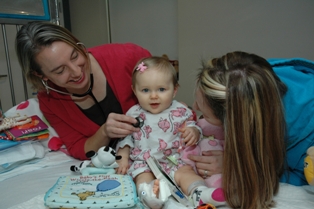 Winter weather brings us all closer together and keeps us indoors - and that means it's prime season for germs to spread, especially among children in daycares and schools. The number one best way to prevent the spread of infection is hand hygiene, so teach your children the best practices for handwashing in a way they will understand and maybe even enjoy (for example, most kids get a kick out of singing "Happy Birthday" twice to ensure that they're washing for the recommended 20 seconds). If you need a refresher on all the handwashing recommendations,
click here for the CDC site all about hand hygiene.
What if your child is sick? Most illnesses such as colds and stomach bugs can be treated at home with fluids and rest, but sometimes they can be more serious. 
Dr. Claire McCarthy with Boston Children's Medical Center wrote this helpful FAQ about when to call the doctor or visit the emergency room
. While we hope your child stays as well as possible, rest assured that if you do have to take your child to the Emergency Department or he or she is admitted to the
Pediatrics Department
, the caring PRMC staff and pediatric hospitalists (hospital-based pediatricians) from Children's National Medical Center are ready to offer your child the best of care.