Posted In Peninsula Regional News on December 31, 2013
Image: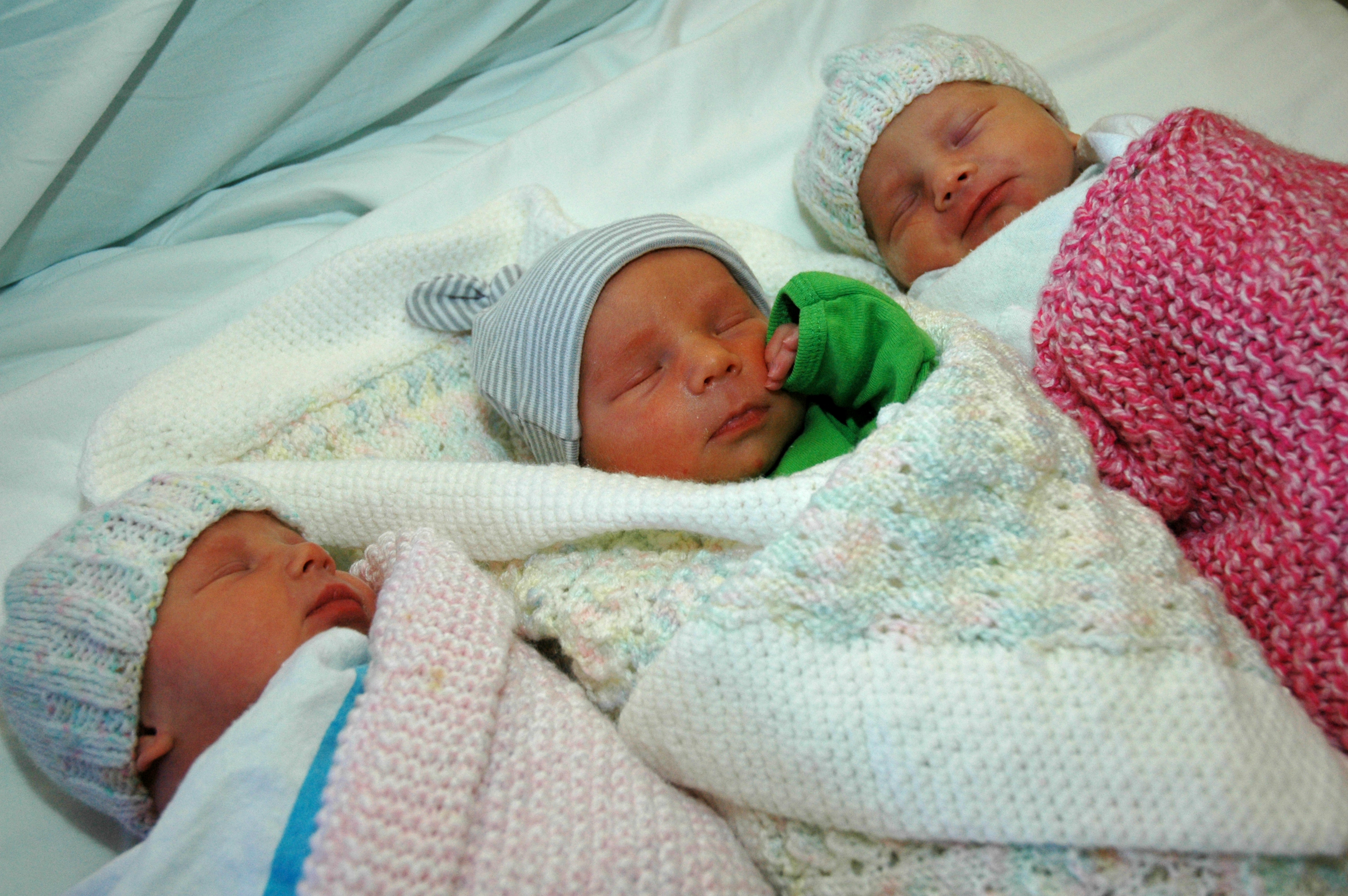 Amber and Robert Cruey hold their newborn triplets on December 31 at Peninsula Regional Medical Center.
When Amber Cruey of Crisfield underwent her regular 5-month sonogram that would reveal whether her new baby was a boy or a girl, she was excited to hear "girl" — but shocked to hear "and boy… and girl."
"They asked me if I hadtaken any fertility drugs — I hadn't!" Cruey said. The sonogram at Peninsula Imaging had revealed two more heartbeats that no one had expected to hear. "I definitely felt a little different than I had in my past pregnancies, but I still never thought it would be triplets," she said. Cruey carried all three babies to nearly full term, and all three were born at Peninsula Regional Medical Center in Salisbury on the morning of Sunday, December 29. Abel was 6 pounds, Lydia was 5 pounds 9 ounces, and Angel was 5 pounds 14 ounces — all born very healthy at 35 weeks and 5 days, just shy of Amber's scheduled 36-week c-section date. Now she and her husband, Robert, are preparing for life with three new additions to their family, joining their 7-year-old boy and 5-year-old girl at home. So how do you prepare for triplets? For Amber, a stay-at-home mom, it was "lots of bottles and diapers —and coming up with a routine that would let me take care of all three babies at once." She has family willing to help her and Robert out as she recovers from a Caesarean section. "It will be a challenge," she said, "but once we get into a routine, it should be fine." There was planning well beforehand at Peninsula Regional Medical Center, too, since a triplet birth is not an everyday occurrence —the last triplet birth at PRMC was in October 2012. Diane Hitchens, director of Women's & Children's Services at Peninsula Regional Medical Center, laid out a plan for all disciplines that needed to respond (such as Labor & Delivery nurses, neonatology physicians, respiratory therapy and anesthesia). All necessary staff had been on call for two weeks in anticipation of the delivery to make sure all the right staff was there for the mother and babies. The plan even extended to equipment, Hitchens said. "There was a blueprint developed for all of the equipment that would be needed in the OR and who would be responsible to make sure all of the equipment got to the appropriate places." All the planning paid off in a seamless birth with three healthy babies and a proud mom who confessed, "I had been dreading the c-section, so I'm happy it's over!" She said the thorough planning helped, as did the kind Labor & Delivery nurses who put her at ease. According to the Centers for Disease Control and Prevention, just 0.1 percent of live births are triplets or more, and a natural occurrence of triplets is even rarer. There are only about 5,100 triplet births every year; it's estimated that three quarters of those are due to fertility drugs. It's unclear whether the girls are identical or fraternal twins; bloodwork will reveal more. Either way, Amber and Robert are delighted with their three new babies. "I wasn't expecting to have three, but it is very exciting, and they are all beautiful," Amber said.